A Piece of History |
by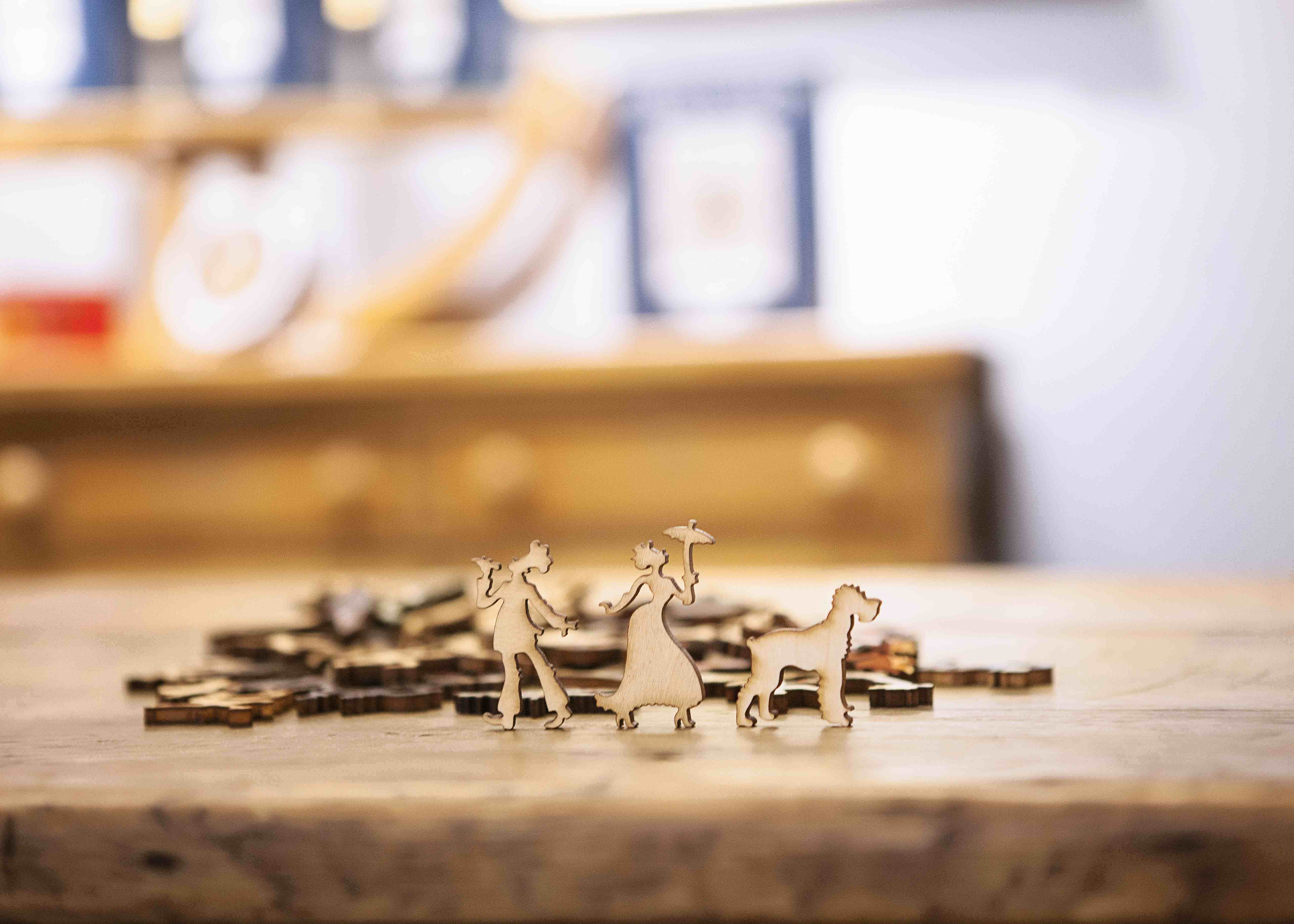 Boulder jigsaw-puzzle company makes big fans of baby boomers
Call it a comeback, a yearning for the simpler days, or a rebellion: Americans weary of staring at glowing computerized screens are trading in their smartphones and iPads for more time-tested forms of enrichment ̶ such as good, old-fashioned jigsaw puzzles.
While too much tech time can lead to lack of focus, isolation, and stress, family activities like game nights and puzzles can benefit executive functions, fine motor skills, and patience, a dichotomy that helped inspire Chris Wirth's Boulder-based Liberty Puzzles. Now, after almost a decade of success, the company opened its first brick-and-mortar store in Boulder this fall.
"It's a decidedly non-digital experience," Wirth says of puzzle-building. Liberty Puzzles, now the largest manufacturer of wooden jigsaw puzzles in the United States, offers more than 300 puzzle images, with an emphasis on fine art, vintage prints, and Asian art.
"A lot of people tell us they remember when their grandmother or great-aunt had old, wooden puzzles," says Wirth, whose family has a bit of puzzle history as well. Wirth's great-grandmother was friends with a Cleveland-based family who made the popular Chagrin Falls puzzles, which sprang up in the post-Depression era as a wholesome pastime for cash-strapped families.
Wirth's mother eventually inherited more than 100 Chagrin Falls puzzles, which were so precious she didn't tell her children she had them until Wirth's early teens. From then on, they took one on every vacation , Wirth says. "They're incredible works of art."
A hat-tip to the wooden, hand-cut puzzles of the early 20th century, Liberty's are made with a print adhered to quarter-inch maple plywood and cut with computer-controlled laser cutters. Most Liberty Puzzles include the company's signature whimsy piece in the shape of an eagle. Whimsy pieces are cut in the shapes of characters, animals, or complex geometric shapes and usually make up 15- to 20-percent of the pieces.
New Liberty puzzles debuted this fall, the culmination of a months-long, eyes-wide-open effort by Wirth and his team, who are constantly on the hunt for existing artwork that would look great as a puzzle. Of 50-plus images considered, roughly half made the cut for the fall line. "We are always looking for new art," Wirth says. "A lot of our ideas come from antique book shows. It's a throwback product, so the vintage images work really well for us."
Customers can also upload their own favorite images and have them made into a puzzle. The company produces several thousand of those a year and holds an annual contest to award its favorite submission. Liberty also licenses from 25 contemporary, living artists, and half of its puzzles are from artists no longer with us (Picasso, Dali, M.C. Escher), with "Hummingbirds" by Ernst Haeckel ($85) being its all-time bestseller.
Visit Liberty Puzzles on the East end of Pearl Street Mall in Boulder, or online at libertypuzzles.com
Tags: Boulder, jigsaw puzzles, puzzles
Leave a Comment
Please be respectful while leaving comments. All comments are subject to removal by the moderator.