CEO: Chief Exercising Officer |
by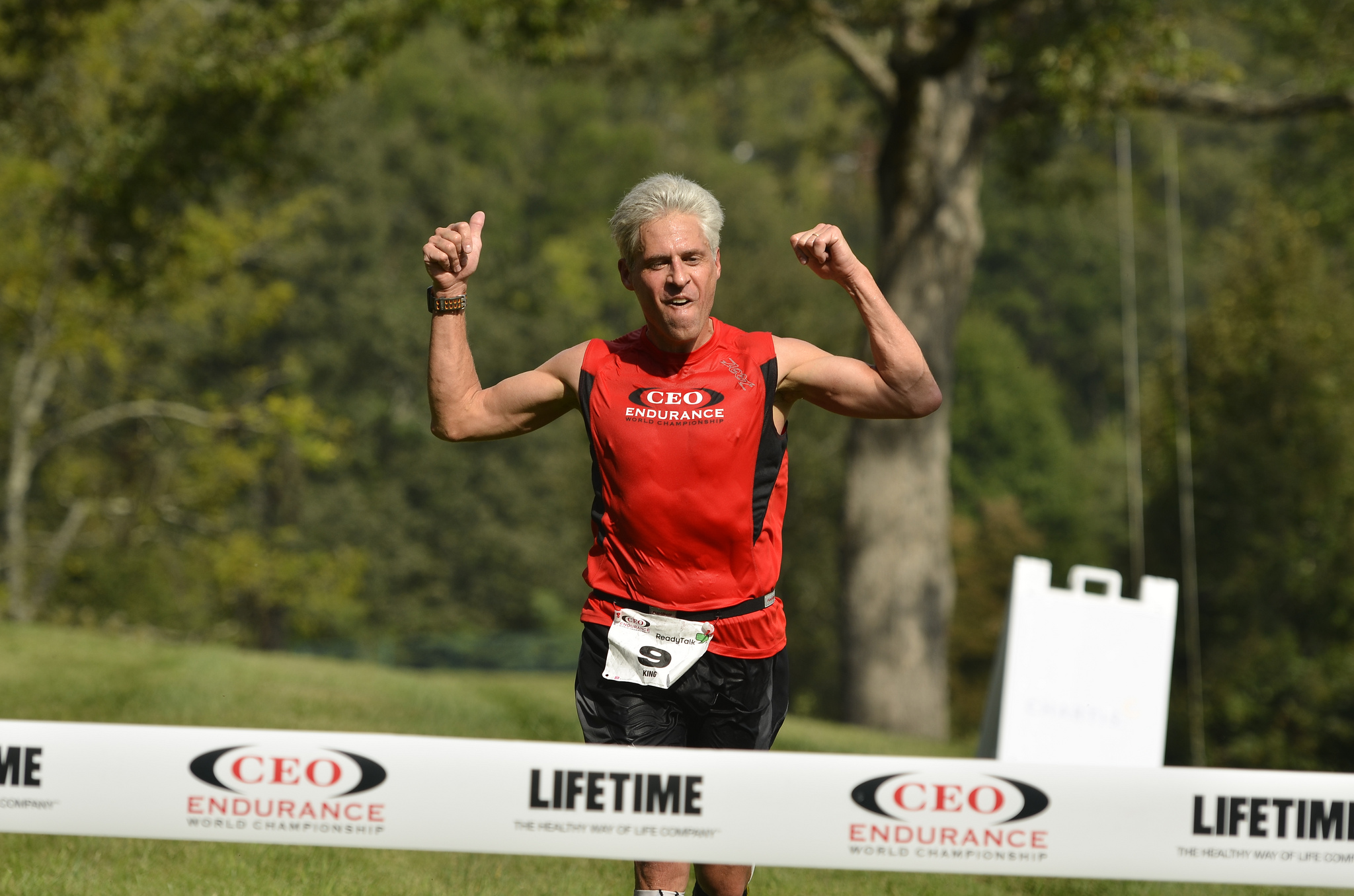 ReadyTalk CEO Dan King - recently dubbed the "World's Fittest CEO" - is on the move, headlamp guiding his way as he rides his bike 36 miles from his Boulder home to his sixth-floor office in LODO.
Long before most of us are even reaching for the snooze button, FCC Services CEO Scott Binder is sweating it out on a stationary bike in his spare bedroom, three space heaters blasting at a sweltering 85 degrees to prepare him for his upcoming Ironman Triathlon World Championship in Hawaii.
Sylvia Young, who heads up the seven Denver area hospitals in the HealthOne system, starts her day, pre-dawn, with a brisk walk with her dogs. Then, she either skips out for a lunchtime swim or meeting with a personal trainer, or squeezes in a bike ride between her dinner appointments and her night-time email duty.
"As corporate executives we have to have resilience and strength and mental acuity and stamina, and the best way to get that is with physical activity," says Young, a 50-year-old mother of two who works out five days a week – often multiple times per day – in addition to her 60-hour-plus workweek. "We need to look at ourselves as athletes in a marathon, not a sprint, and that requires training."
Binder, King, and Young are among a new breed of CEOs who view working out not as a guilty pleasure to squeeze in on the side but as a critical component of business success. Their message is sorely needed in the business world where, according to research by the Florida-based Rippe Lifestyle Institute, more than 40 percent of corporate executives are obese and 73 percent are overly sedentary. In recent years, numerous high profile CEOs, (McDonald's, Clorox, Sara Lee) have succumbed to heart attacks at an early age.
But on the upside, many say they see a slow cultural shift underfoot – one in which the martini-sipping, cigar-smoking stereotype of CEO is giving way, and a fit boss commands respect rather than suspicion.
"A decade ago, most high profile CEO's didn't want their name associated with doing an Ironman triathlon. They were afraid their shareholders would say: 'How do you find time to train? Why aren't you working harder?'" says Ted Kennedy, founder of Boulder-based CEO Challenges, which puts on endurance competitions for corporate executives. Today, the company hosts 13 events annually and plans to double its offerings in the coming years. "Companies and shareholders are realizing the benefits of having a healthy CEO."
Fit boss = Fit company
Step into the 50,000-square-foot offices of King's 12-year-old web-conferencing business ReadyTalk, and it becomes apparent: Wellness runs through this company's DNA. Storage lockers bulge with bicycles. Gym bags and running shoes peek out beneath almost every desk (his included). At lunch time, many of its 155 employees gather round for company-sponsored yoga classes, or head to the second-floor gym. One software engineer's desk even has a pull-up bar over it, where impromptu strength-training sessions occasionally break out.
The company itself is also ultra-healthy, with $30 million in revenue in 2012, and a respectable ranking on Deloitte's list of "fastest growing companies." In August, Outside Magazine named ReadyTalk the No. 1 best place to work in America.
"I want to build a sustainable company with people who work here for a long time. To do that, they have to have balance in their lives," says King, a chiseled 53-year-old father-of-two with a white shock of hair, translucent blue eyes, and fewer wrinkles than most 40-year-olds.
The children of a distance runner Dad with Olympic aspirations, King and his three siblings (including company co-founder and brother Scott King) "grew up running." And running fast. Dan ran cross-country in high school and in college at University of Colorado, clocking a dizzying 4:16 mile before plantar fasciitis forced him to back off. After finding inspiration in Christopher McDougall's best-selling running book, "Born to Run," at age 50, he returned to the sport with new "minimalist" running shoes and a vengeance. He's now back to a sub-5-minute mile and last July took first in the World Masters Athletics Track and Field Championships in Sacramento, Calif.
On Sept. 16, King was crowned "the World's Fittest CEO," out of 17 competitors who participated in a three-day, six-stage multi-sport CEO Endurance World Championship set to air this fall on TV.
To train, he woke at 4 a.m. twice a week to ride 2.5 hours to work; "fiercely protected" his lunch hour to allow for some speed work in the local park; did yoga at lunch, swam after work, and spent 3-4 hours per weekend on his bike. In, all, he worked out 12 to 18 hours weekly.
If anything, he says, all that training makes him more productive at the office. All those long meditative rides give him quiet time to develop new ideas. He has more energy and confidence. And by training his body to adapt to physical stress he's learned to better deal with work stress.
"People do themselves a disservice if they go through life thinking they have to trade off between health and fitness and job performance," he says. "It's flawed logic."
Embolden by sport
For Binder, 50, endurance sports have been a career catalyst.
He ran his first marathon at age 20 and ran a personal record of 2:41 a year later. During a gap year after graduating from college and before taking his first job as an accountant at Arthur Andersen, he moved to Estes Park to train full time for the 1985 Hawaii Ironman Triathlon World Championships, a grueling test of will featuring a 2.4-mile swim, a 112-mile bike ride, and a 26.2 mile run. It was life altering.
"I was just a kid from Fort Morgan whose parents had a small business with a couple of employees," he recalls. "Going to Hawaii really reshaped my view of what was possible and what I might be able to accomplish with my life. You walk away from these things with greater confidence in your ability to overcome and endure."
Since then, he has moved more than a half-dozen times to as many states, cultivating a 22-year-career in the fast-growing telecommunications industry. He worked at Comcast for 12-years, ultimately managing more than 3,500 people, before moving to his post at the helm of business consulting firm FCC Services in 2011.
All the while, he has managed to incorporate training into his life, ticking off more than 200 triathlons and five Hawaii Ironman Championships while also building fitness into his home life with his wife, and three children (they all hike, ski, run, and cycle too).
In June, he competed in the Coeur D'Alene Ironman with his 23-year-old daughter. Now he's training for his sixth trip to Hawaii Ironman.
His typical Wednesday morning? Rise at 4:30 a.m. for a swim. Return to the house for a 90-minute stationary bike ride in an 85-degree room. Be at work by 9.
His typical week? Swim 8 miles. Bike 300 miles. Run 35-40 miles.
"I know it sounds crazy, but it's not always like this," he apologizes with a smile, noting that when he's not training for an event, his fitness schedule looks far more sane.
But even when the training slows down and the finish line is far behind him, the benefits linger.
"You have to have discipline in business, and you have to do things you don't always want to do," he says. "If you can make yourself ride your bike for 90 minutes in an 85 degree room, you can handle just about anything at work."
Tags: FCC Services CEO Scott Binder, ReadyTalk CEO Dan King, Sylvia Young HealthONE, World's Fittest CEO
Comments
Leave a Comment
Please be respectful while leaving comments. All comments are subject to removal by the moderator.