Delay tactics |
by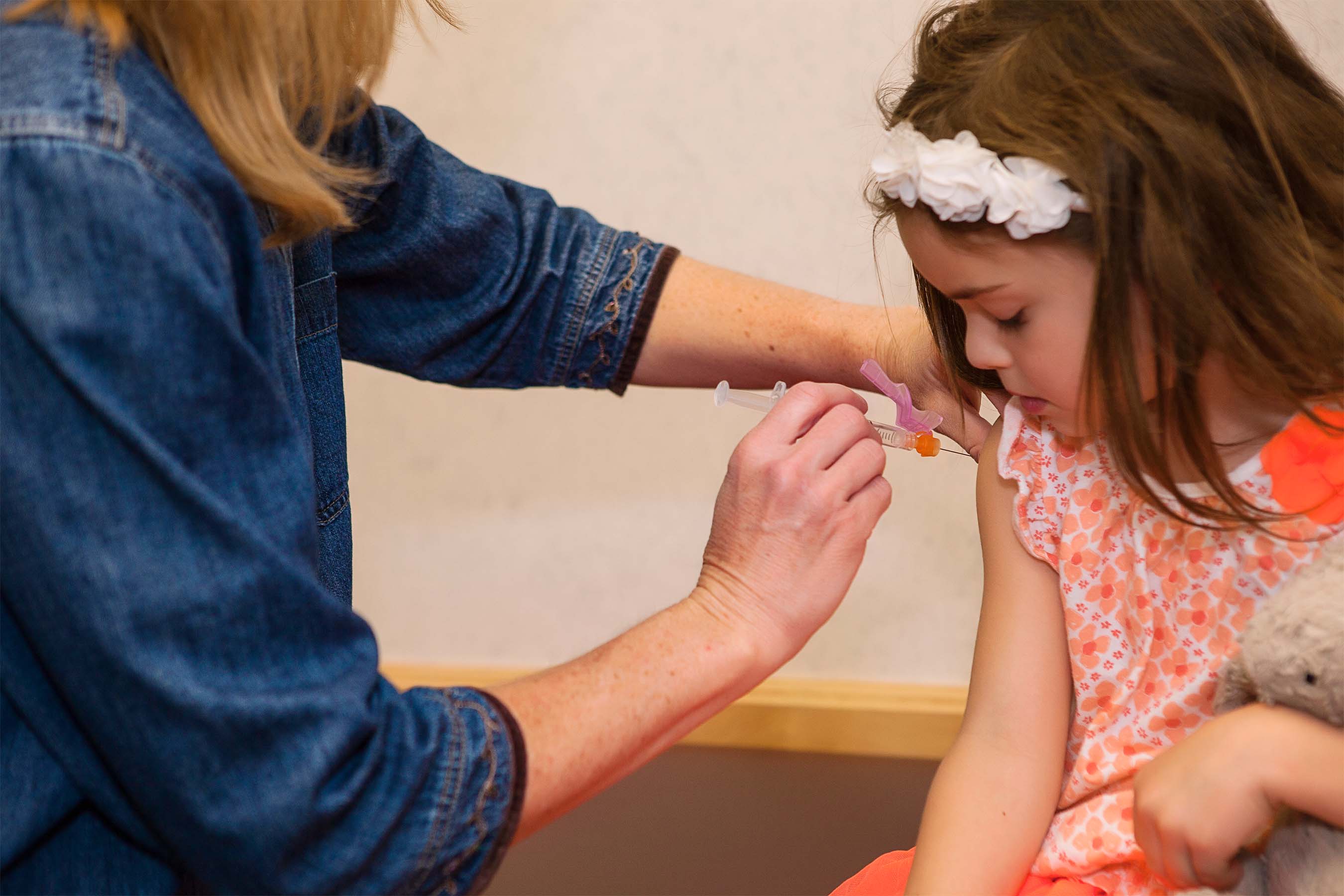 As more parents seek alternative vaccine schedules, pediatricians sound alarm
Did you know?
Pertussis cases reported to the Colorado Department of Public Health jumped from 419 in 2011 to 1,516 in 2012, the highest number of cases the state had seen in 60 years.
In 2014, 644 measles cases from 27 states, including Colorado, were reported to the Centers for Disease Control, a record number since 2000.
A new law in Colorado (HB-14 1288) requires schools and childcare centers to have their vaccination rates available upon request.
By the time Jessica Troy faced the vaccine question for her first-born child, she was well-entrenched in a "crunchy" lifestyle. Her baby was born at home. She had ruled out pain medication from the start. And as for breast-feeding? No question. So when she told her pediatrician she had vaccine reservations and wanted a delayed schedule for little Elijah, now 7, that's what she got.
"I think I kind of got lucky with that," says Troy, 31. "I initially sought out a pediatrician who would be comfortable with the other crunchy things I do, so I found someone who was used to those kinds of things." But whether Troy was "lucky" or not represents a growing debate.
As the number of parents asking for immunization schedules that go against the Centers for Disease Control and Prevention's approved timetable rises, and as communicable diseases such as measles and whooping cough re-emerge in the United States, some pediatricians (including the American Academy of Pediatrics) are stepping up efforts to reverse the trend and urge CDC adherence. Meanwhile, patient-choice advocates fear an over-response has led to bullying parents who deserve to make their own decision.
Fear fuels rising trend
"I'd say that a fifth of physicians saying that 10 percent or more of their families are asking to spread out vaccines is very significant," says Dr. Allison Kempe of Children's Hospital Colorado. Kempe, lead author of a study recently published in the journal Pediatrics, found 93 percent of 534-responding pediatricians surveyed from across the country reported that, in any given month, they were asked at least once to delay vaccines. One in five doctors said that 10 percent or more of their parents had requested delays.
"If you look at it in terms of an individual child, it might not seem significant. But if you look at it at a population level, then you pretty quickly get into a situation where there's not enough herd immunity," Kempe says, referring to having enough members in a community immune to an infection to protect those who cannot be vaccinated. For instance, measles requires a 95-percent immune rate. In a recent CDC survey, Colorado held the lowest percentage for measles-immunized kindergartners in the nation at 82 percent.
Reasons vary for straying from the CDC schedule, which includes 49 doses of 14 vaccines (many combined) by age 6, ranging from wanting to reduce the pain associated with so many shots to belief that the targeted diseases aren't a threat to their children, according to Kempe's study. But fear of side effects, both short- and long-term, ranks high for many parents.
"My reasoning at the time was just being so unsure," says Troy, who lives in Thornton with her husband, son and daughter, Freja, 2. "There's so much scary stuff out there on both sides and not being really well-versed, it (getting the shots at a slower pace) just seemed like it was the safest way."
Fears have made requests for delayed shots "all too common" in her practice, says Dr. Stephanie Stevens of Advanced Pediatrics Associates in Centennial. "People want to do the right thing for their kids. Pretty much everything we do in life has a risk. Vaccines are not risk-free either. But once you look at the rest ̶ at these illnesses that really kill and really hurt children ̶ and realize that these are not diseases that we want to re-emerge in this country, you realize the best way to prevent that is by vaccinating."
Taking a critical look
The CDC estimates that vaccinations will prevent more than 21 million hospitalizations and 732,000 deaths among children born in the past 20 years. Conversely, some 30,000 VAERS (Vaccine Adverse Event Reporting System) reports are filed annually, with 10 to 15 percent classified as serious (resulting in permanent disability, hospitalization, life-threatening illnesses or death).
But those are not reliable statistics, according to the National Vaccine Information Center, as VAERS is a passive reporting system: Adverse reactions are not automatically collected but require a filed report. Anyone can report an event; no one has to, says Theresa Wrangham, NVIC executive director, who lives in Louisville, Colorado. Wrangham emphasizes that her non-profit organization is not anti-vaccine but pro-education and choice.
"There are government-established serious side effects to vaccinations, and not all people respond the same to vaccines," Wrangham says. "The minute we endorse a schedule, somebody can still get hurt by it. It's important that people are allowed to have a conversation with their pediatrician with any concern they have and do that risk-benefit assessment and make a decision."
While the proven side effects of vaccines are rare, Wrangham notes that a high number of possible adverse events remain inadequately studied, citing a 2011 safety review by the Institute of Medicine. The IOM examined 158 of the most commonly reported adverse effects for eight routine childhood vaccines and found there was not enough research to accept or reject a causal relationship for 85 percent, or 135, of those events. Reactions reviewed ranged from seizures and encephalitis to autism and diabetes.
"We work very hard to give people both risk and benefit information, and then they are able to decide on an informed-consent basis, Wrangham says. "For all other medical procedures, we are allowed to say: I am not comfortable taking that risk."
Choice has fallout
But choosing not to vaccinate children is not parallel to deciding not to have their tonsils removed, pediatricians argue. Not vaccinating affects the entire population, putting those who are too young or too sick to be vaccinated at risk, such as newborns or children undergoing cancer treatments or organ transplants. "That's a huge thing," Stevens says. "It's really our job as a society, as a community, to protect those kids who really cannot be protected."
Stevens and Kempe both acknowledge that some pediatricians are taking strong actions, with a few even refusing to treat patients whose parents will not follow the CDC schedule. Other moves include: providing separate waiting areas for non-vaccinated children, having parents sign consents saying they know they are putting their children at risk, and requiring separate visits away from well-care visits for parents questioning vaccines.
Many pediatricians report spending about half of their well-baby visits discussing vaccines, Kempe's study found. And that's a problem, Stevens says. "I think it's become a big issue." Well-care visits are crucial for evaluating infant's growth and development and teaching parents about other critical health and safety issues, she says.
Parents are letting what Stevens calls "bad information" scare them, and are making poor vaccine decisions with little basis. In Kempe's survey, 43 percent of pediatricians cited "general worries with no specific concerns" as a chief reason for delay requests. Troy has since re-evaluated and had her children caught up on their vaccines, nothing that her pediatrician "seemed relieved."
But at least Troy had the choice, Wrangham would say. "The last time I checked, that doctor works for me. Every life is precious, whether it's harmed by disease or vaccine," Wrangham says. "A parent should have the right to make a decision, and that decision should be respected."
Comments
Leave a Comment
Please be respectful while leaving comments. All comments are subject to removal by the moderator.