Austin Eubanks, Mending Lives |
by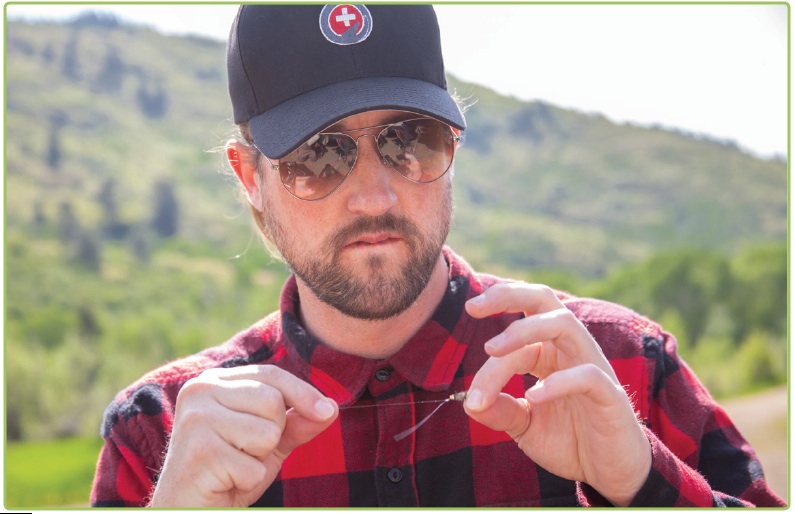 Columbine survivor found solace in aiding others to sobriety
Austin Eubanks is standing thigh-deep in Sarvis Creek, near Steamboat Springs. It's a cool, mostly sunny day in early June, and the usually small creek is running as a fast river due to the recent snow melt.
Eubanks spends the morning methodically mending his line as the natural drift of the fly attracts the attention of trout holding below the swift current. Without warning, Eubanks raises his rod to the sky, setting the hook and carefully bringing a fish to the bank. He beams as he shows the brown trout to his companions.
The scene is idyllic and peaceful, and Eubanks is relaxed, clearly an experienced fly fisherman. He has spent a lot of time mending, but not just on the water. Austin has also worked hard to mend his own life, bringing it back from the brink of addiction and, in turn, helping others in the throes of drug and alcohol dependence.
Twist of Fate, Heaven can Wait
Austin's name might be familiar to many longtime Coloradans; on April 20, 1999, Eubanks was crouched under a table in the Columbine High School library. Moments earlier, he'd been talking to his best friend, 17-year-old Corey DePooter, about going fishing after school. When the shooters burst in, more than 50 people were scrambling for cover. The table Austin and Corey were under was the last the killers took aim at. When a hush finally came over the room less than 10 minutes later, 12 people had been wounded, including Austin, who was shot in the hand and knee. Ten others were killed. DePooter was their final victim.
While most kids his age around the country were planning for prom or making summer plans, Eubanks was hospitalized, overcome with shock and grief. To relieve both his physical pain and mental anguish, doctors gave him what he now says was "basically a speedball" of prescription narcotics, including opiate painkillers and benzodiazepine, often used to treat anxiety and insomnia.
He didn't know it then, but Austin Eubanks had just started down a long, painful road of addiction that he would stay on for nearly 12 years.
Opiates Grip America
Stories of opiate addiction are nothing new. Its grip on America has been called an epidemic and a public health crisis. The subject received mainstream media attention in April after Prince died. The Prince narrative often included talk of how healthy he'd been, so when it was widely reported, and later confirmed by autopsy, that opiate dependence played a significant role, people were shocked, of course. But there were countless others who weren't.
There is no "typical" opiate addict. They are our mothers, our children, professionals, neighbors, the rich, the poor, all colors, all shapes and sizes. They live in big cities and, increasingly, smaller communities like Steamboat Springs, where Eubanks now lives. "Five years ago, I'd never personally seen a heroin overdose in this hospital," says Yampa Valley Medical Center director for emergency services, David Wilkinson. "It was very rare. Now we're seeing opiate problems on an almost weekly basis."
The epidemic has touched the lives of millions of Americans, be they the addict or an addict's loved one. The statistics are staggering. According to the CDC, from 2000 to 2014, nearly half a million people died from an opiate overdose — more than 165,000 from prescription painkillers like those Eubanks was given. The overdose rate has quadrupled since 1999, and an average of 46 Americans per day now die from prescription opiate abuse.
Opiate addicts, Wilkinson says, can be highly functioning. Many people seek out prescription painkillers for chronic pain or common ailments and are addicted before they even know it. "Opiate addiction is dangerously seductive," he says, adding that taking them for just 10 to 12 days can make you dependent. "You become tolerant — it's an issue of, well, if one was good, it's no longer good and you need two. It's a huge mess, because if you don't look at alternatives, the pills create their own demon pretty quickly."
Journey of Finding Hope
Eubanks' "demon" was entrenched in his life long before he realized it. His physical wounds had long healed, but the emotional ones —among them, survivor's guilt and the fear he'd inevitably lose people he loved — remained wide open. His grief was still raw. He resisted addressing any of it by taking more and more pills: Adderall to wake up in the morning, huge doses of OxyContin to get through the work day, Xanax at night to wind down. "I was changing myself into a robot. When I took the pills I didn't feel any emotion, I didn't feel any pain." Still, he was, he says, "incredibly naïve to addiction. I'd never seen it, there was no known genetic predisposition in my family. And all the drugs I was taking were prescribed by a physician — those are the people you trusted."
It was in 2006 — seven years after Columbine — that he started to suspect he had a problem. By then he'd developed a tolerance to the prescription meds, so he started taking "illicit drugs" — cocaine, ecstasy, and he was drinking in excess. "By that point, I had really started to experience the downward spiral of addiction and was thinking: 'Wait a second, maybe this isn't right.'"
Starting that year, Eubanks went into residential treatment three times, but nothing stuck. By 2011, he says, his brain chemistry had been so affected by his drug abuse that he was essentially operating on "caveman functionality." No rationality, no impulse control, resulting in a few arrests. "I say it's like playing Grand Theft Auto, but in real life — you're just running around doing whatever you want." The morning of April 2, 2011, he hit bottom. The day prior, he'd gone to the Rockies Opening Day and then a restaurant with friends, taking his usual high dose of OxyContin and drinking. He woke up the next morning in jail, with zero memory of how he'd ended up there. He later pieced together that he'd blacked out at the restaurant, and the paramedics discovered he had a warrant out for his arrest.
By then Eubanks was married but separated, and he called his wife from jail. "She was just done," he says. "The addiction had ruined my marriage." He also had two young sons from whom he'd become estranged. It was a turning point. "I thought, 'I'm 29 years old. If I don't figure this out now I'm going to end up dead.' I went to a long-term treatment center and said, 'Tell me how to talk, how to walk, tell me what to do and I'll do it. I give up … I'm done fighting.'"
That was the last day that prescription narcotics controlled Eubanks' life. On April 2, 2016, he celebrated five years of sobriety with his family and friends. He's reconnected with his sons, and he's engaged to a woman whom he calls "phenomenally supportive" of his recovery. They will marry early next year.
Reel Recovery
These days, Eubanks helps other addicts get their lives back. Most recently, he was named program director at The Foundry Treatment Center in Steamboat Springs. Wilkinson acts as the medical director for the center and, together, along with others in the Steamboat community, they are doing what they can to address the opiate epidemic on a micro- and macro-level.
Those efforts were aided on a federal level in March, when myriad stories that mirror Eubanks' became impossible to ignore, and the Centers for Disease Control released its first-ever prescription opiate guidelines. In that report, the CDC used unusually forthright language to discourage the medical community from prescribing opiates for common ailments such as back pain, migraines, arthritis and other chronic conditions. The guidelines are not binding, but Dr. Wilkinson notes that they "put into print what a lot of [doctors and clinicians] already felt was the right way to go." The guidelines, he says, have been embraced by the physicians he works with — "we rarely prescribe more than 20 pain pills."
But the opiate problem is too widespread to be addressed by the guidelines alone. Eubanks would like to see more doctor education regarding opiates, especially in medical school, and also see better protocols put in place for diagnosing emotional trauma, which he knows from personal experience adds another level of vulnerability when taking opiates. If he could tell his 17-year-old, post-Columbine self one thing, he says, it would be "don't run from the pain." He did the running, but the opiates contributed hugely to his ability to do so.
For his part, Wilkinson says the epidemic can't be challenged without grassroots activism at a community level. Along with others in Steamboat Springs, he founded the Rx Task Force, where the focus is on community education and engagement. "I really think the most effective approach is for a community to get involved. It really takes a village to fix this problem." On a state level, organizations like Rise Above Colorado and the Colorado Consortium for Prescription Drug Abuse Prevention are helping to further the dialogue and educate the public.
So the consensus is that there is momentum in addressing this public health crisis, but there is still much that needs to be done. For his part, Eubanks will continue helping other addicts with a message of empowerment. "I'm very proud of what I've done," he says. "I get to wake up everyday and help build a business whose sole focus is helping people."
And when he's not working, he'll be spending more time in the waters of northwestern Colorado — time he considers a significant part of his continued sobriety. "If you're numbing yourself with substances due to unresolved trauma, the last thing you want is an activity like fly fishing that forces you to be present." Now, he adds, "it's something I do to connect with Corey. It was a major aspect of our friendship, and I lost the passion for it after losing Corey. Then I came back to it in recovery — I'm very grateful that has changed."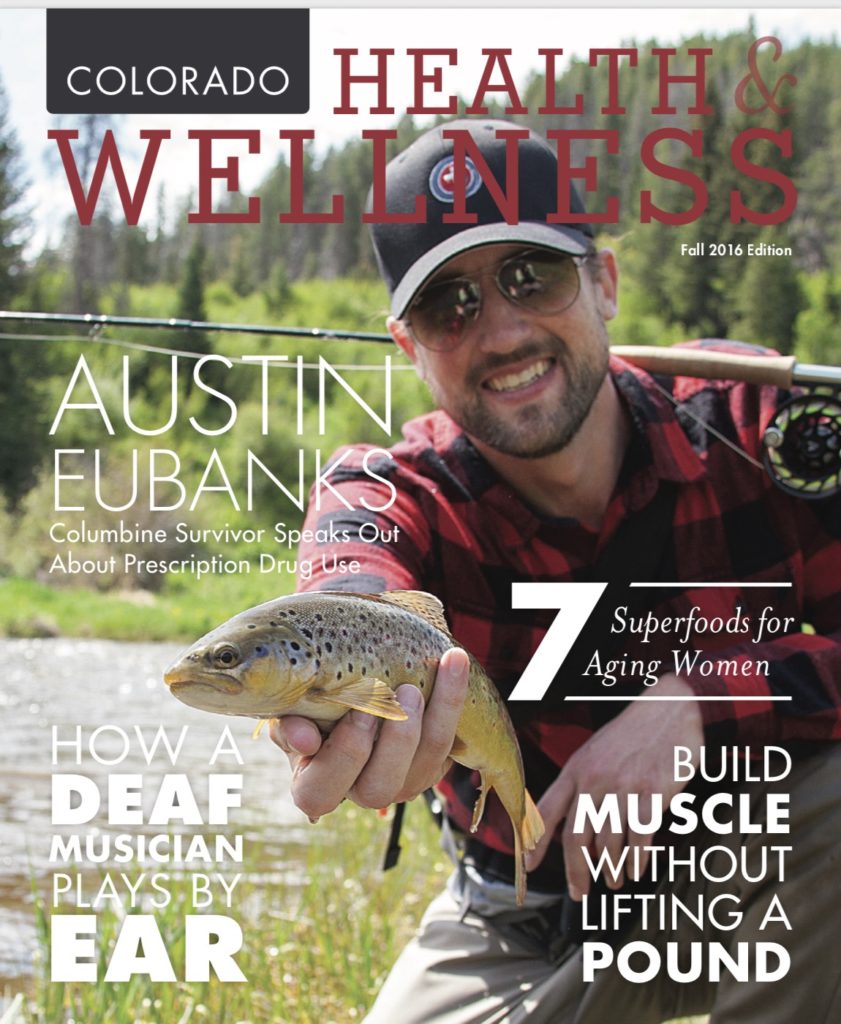 Tags: Opiate Addiction Recovery
Comments
Leave a Comment
Please be respectful while leaving comments. All comments are subject to removal by the moderator.