Nutrition & Fitness Programs In Cancer Care |
by
The Denver metro area is full of places and people that bring comfort, compassion and encouragement to someone whose life has been touched by cancer — whether patient, survivor or caregiver. The following is a solid but incomplete list of south metro Denver resources for those affected by cancer. Please contact Peter at peter@solvepublications.com to have a resource added to this directory. For additional resources and recommendations, consult your physicians and care teams.
Bfit Bwell Cancer exercise program designed to decrease fatigue, improve strength and balance and establish positive behavior changes. Program is three months long and available to those currently going through treatment at the University of Colorado Cancer Center or who are less than six months post-treatment. 303-724-9202
Culinary Medicine A program held at the CU Anschutz Health and Wellness Center's demonstration kitchen with different dietitians who present recipes and nutrition education on disease specific topics. The oncology components of this session occur once every 5-6 weeks. Recipes are based around dealing with side-effect management, being healthy as a cancer survivor as well as focusing on taste changes from treatments.
Nutrition In Cancer Care Free nutrition classes by registered dietitian/nutritionist, board certified specialist in oncology, include; side effects of hormone changes, fighting cancer with a fork, optimizing immune function, managing fatigue, hydration, exercise, blood sugar control, exercise and weight management.
Rocky Mountain Cancer Center
Aurora, Littleton, Lone Tree-SkyRidge locations
303-643-6537
Project Angel Heart Local organization providing nutritious meals for cancer patients and their families.
Strata Integrated Wellness Spa Trained clinicians specialize in both western and eastern therapy for cancer patients including Healing Touch through various treatments, energy therapy, meditation, acupuncture, IV nutritional therapy, pain management, emotional wellness and nutrition support.
PROJECT ANGEL HEART
Organization Provides Nutritious Meals For People With Cancer And Their Families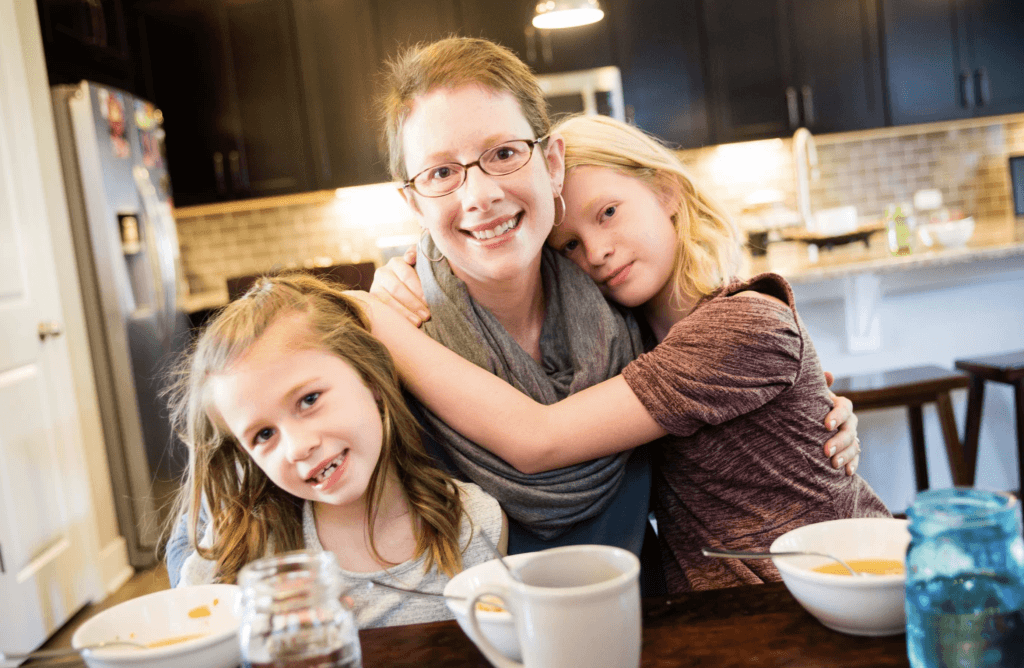 Erin Pietriyk knew about Project Angel Heart (PAH) well before she was diagnosed with breast cancer at the age of 39 in 2017.
"I was in love with their mission and whatnot — I was just in awe of them as an organization," she says. "And then I got diagnosed, and it didn't occur to me one bit that I was somebody that should apply. I just thought, 'No that's for people that are really sick.'"
Luckily, Pietriyk had friends and a husband who thought differently. PAH is a non-profit that provides meals for people with cancer and their families. As Pietriyk is a flight nurse who works 24 to 48 hours shifts, her husband soon realized what a help PAH would be to Pietriyk and their two young daughters when he was at work. He found the paperwork, filled it out and sent it off.
A few weeks later, when the meals started to arrive, Pietriyk's initial hesitancy turned into relief. Being a few sessions into her chemotherapy regimen, she was feeling very sick — "everything was a struggle at that point," she says.
Pietriyk is just one of the more than 3,000 clients that PAH serves each year, says Amy Daly, the organization's director of marketing and communications. The project first began in 1991 serving HIV/AIDS patients. The organizers quickly realized that they could help people afflicted with other life-altering diseases.
PAH works with health care providers who provide referrals — and important health information — for people who can benefit from weekly delivered meals. An army of about 9,000 volunteers (300-400 of whom are regulars) prepare, package and deliver the meals each week.
"Nutrition is at the center of everything we do," Daly says. "We're focused on improving health for people who receive our meals. We have a registered dietitian on staff, and she works very closely with our executive chef and other chefs to make sure we're putting together menu items that are nutritionally and very specifically targeted for unique needs."
To Pietriyk, receiving meals from PAH meant more than to her family than just nutrition. The process, she says, was seamless, and she still remembers the first time a volunteer knocked on her door with three decorated bags of meals.
"It's hard to explain the feeling of that," Pietriyk says. "There was just so much care in those bags of meals for us." Without the meals, she says, her daughters "probably would have ended up eating a lot of fast food instead of getting nutritious meals from this organization that's honestly so full of love."
Pietriyk turned 40 while still undergoing radiation treatments five times a week, a process that left her "hanging on by a thread." When her meals were delivered that week, they included a birthday cake and a card signed by PAH employees and volunteers. "I just lost it," she says. "To think of that and add that special little touch. That touched my heart, and reminded me there were still reasons to celebrate."
Today, Pietriyk is cancer-free. To help, donate or volunteer.
Tags: Colorado Cancer Resource Guide
Leave a Comment
Please be respectful while leaving comments. All comments are subject to removal by the moderator.