Peak Dreams |
by
Golden resident Jeff Glasbrenner was in a precarious situation. He was in the final stages of a 12-hour push to summit the world's highest mountain, Mount Everest. For every step forward, Glasbrenner needed three breaths to recover. A storm had socked in his team for an extra day in the area aptly known as "the death zone." Glasbrenner could only hope that his climbing partners—each tethered to one another—were being as cautious and methodical on the climb as he.
One step forward, three gulps of air.
Despite climbing with a prosthetic leg, Glasbrenner never doubted his physical capabilities. Still, the conditions were brutal and his mental fortitude was waning. That's when Glasbrenner heard his father's words: "You can either be pitiful or powerful, but you can't be both." He dug in, and on May 18, 2016, Glasbrenner became the first American amputee to stand on top of the world.
An Unlikely Mountaineer
Since losing the lower half of his right leg at age 8 in a Wisconsin farming accident, Glasbrenner has needed to tap into the power of his dad's words many times. "Whenever I was struggling to adjust to my disability, dad would remind me that I had a choice: overcome the situation or wallow in pity," he says.
Sometimes, despite this encouragement, Glasbrenner couldn't help but feel sorry for himself. After doctors gave him a list of all the things he could never do—run, swim, play sports—Glasbrenner spent his teen years cheering on his sister from the sidelines and wishing that he could move like her, shoot hoops like her and run like her, too.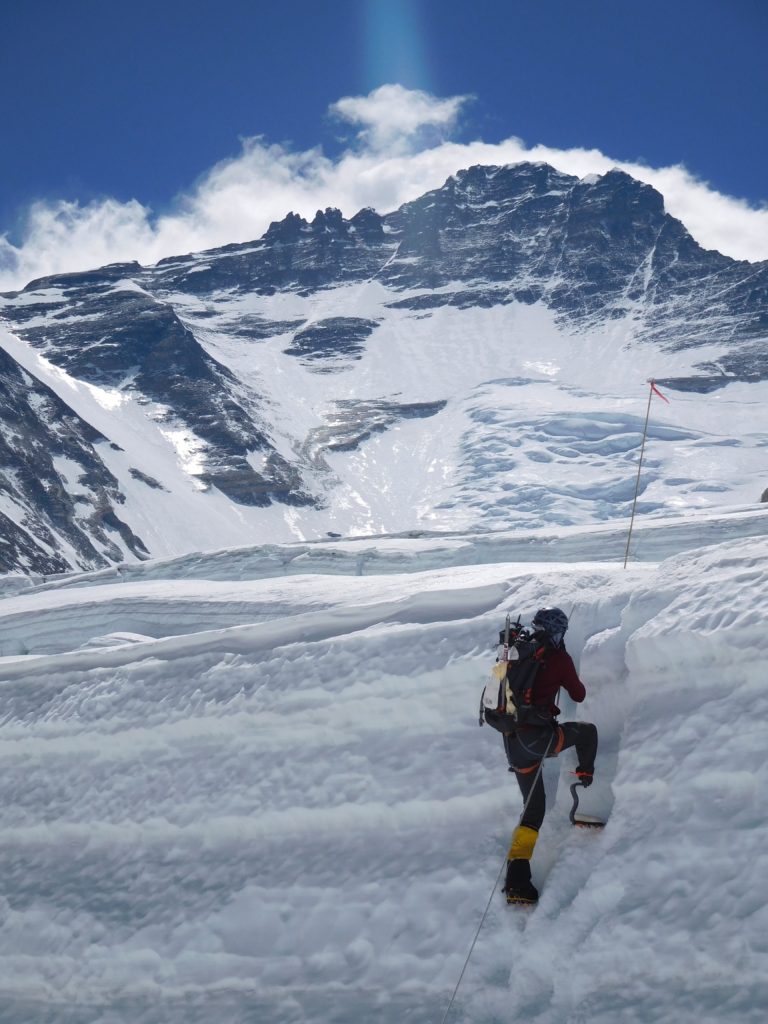 It wasn't until he attended the University of Wisconsin in Whitewater that Glasbrenner discovered that sometimes doctors don't know everything. There, he met the coach of a wheelchair basketball team. "I'd never used a wheelchair, but I was willing to learn if it meant I could finally play a sport," he says. Not only did he play, Glasbrenner went on to become a three-time Paralympian champion and two-time world champion. To this day, he holds the sport's world scoring record.
Once Glasbrenner was in motion there was no stopping him. He took up running, swimming and biking. He competed in 25 full Ironman-distance triathlons and twice finished the Isklar Norseman Xtreme Triathlon, considered to be the world's most challenging Ironman-distance race.
While participating in a 200-mile bike ride in North Carolina, Glasbrenner met the love of his life, Elizabeth. The couple has two children. In September 2014, shortly after the family moved to Colorado, Glasbrenner participated in his first indoor climbing event through Paradox Sports, a nonprofit organization in Eldorado Springs that organizes rock climbing expeditions for people with physical disabilities.
One week later, he climbed the Grand Tetons in Wyoming with a Paradox team. "I loved the experience so much that I started making plans to summit the highest peaks on all seven continents," he says. In addition to the Seven Summits, Glasbrenner also wants to reach the north and south poles.
Just three months after his first climb, Glasbrenner stood at the top of Aconcagua in Argentina, the tallest peak in both the western and southern hemispheres. He decided Mount Everest would be next.
Peak Dreams
To prepare for the world's most difficult and dangerous ascent, Glasbrenner tried out a new prosthetic leg on a March 2016 climb up Cayambe, a 19,124-foot volcano in Ecuador. Although the excursion was a success, the leg was not. "It didn't latch onto the ice correctly, which made walking unstable," he says.
Back in the states, Glasbrenner worked with his doctor and two NASA engineers to design a better prosthesis. One of the biggest challenges was making sure the prosthetic leg would fit if Glasbrenner lost weight like most Everest climbers do.
"You burn more calories at such a high altitude because your heart works harder," Glasbrenner explains. "Plus, the thin air does a number on your appetite. You don't feel like eating or drinking." Glasbrenner ended up wearing 20 socks between his leg and his prosthesis to make up for the 20 pounds he lost while doing the climb.
The climb itself, says Glasbrenner, is everything Hollywood depicts. It's frigid. It's dangerous. It's unforgiving. Still, for Glasbrenner, there's no question that the end goal—all 29,035 soaring feet of it—was worth it. "Once I commit to a goal, I prepare for it 100 percent," says Glasbrenner. "I do extensive research. I surround myself with the best people. I get the best equipment. Most importantly, I always have the support of family and friends."
These days, nobody gives Glasbrenner a list of things he can't do. He's too busy making his own list of the things that he still wants to achieve.
Tags: Mount Everest
Leave a Comment
Please be respectful while leaving comments. All comments are subject to removal by the moderator.