Colleen Hupp, DO
Colorado Cardiovascular Surgical Associates
Dr. Colleen Hupp, a vascular surgeon at Sky Ridge, shares how its hybrid operating room benefits patients.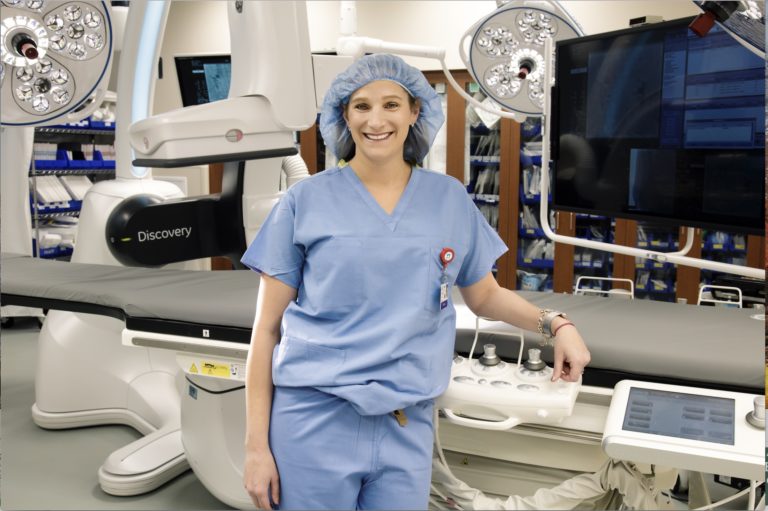 What is a hybrid OR?
Dr. Hupp: A hybrid operating room combines the sterile environment of a traditional operating room with advanced, fixed X-ray imaging systems. In a hybrid OR, surgeons can perform complex open surgeries as well as minimally invasive endovascular procedures, using real-time imaging for guidance.
What type of procedures take place in a hybrid OR?
Dr. Hupp: We're currently performing endovascular procedures using catheters to open blocked blood vessels. We also can quickly treat abdominal aortic aneurysms, a life-threatening condition. If you're at a medical center that doesn't have a hybrid OR, open surgery is the only option to repair the artery aneurysm, or bulge, before it ruptures. In a hybrid OR, we can repair the aneurysm by placing a stent during a minimally invasive endovascular procedure. The success rate for endovascular repair is much higher than open abdominal aneurysm repair. Having a hybrid OR available is truly a game changer for these critically ill patients.
In the future, the cardiovascular team at Sky Ridge is expected to use the hybrid OR for heart procedures, such as heart valve repair or replacement and stent grafting.
What are the benefits of a hybrid OR?
Dr. Hupp: Patient benefits are tremendous. One vascular condition we treat is peripheral vascular disease (PVD). This condition occurs when vessels narrow that carry blood to the legs, arms, stomach or kidneys. Before the opening of the hybrid OR, I would conduct an angiogram, an X-ray that uses special dye to reveal blockages, in a catheterization lab or interventional radiology suite. If possible, I would perform a minimally invasive endovascular catheterization procedure to open the blocked vessel. But if a problem developed, we would need to quickly move the patient to an operating room for an open procedure. Conversely, if the angiogram showed that the blockage was too severe for catheterization, the patient would have to return another day for open surgery.
In a hybrid OR, we can perform multiple procedures in one setting during one hospital stay. Patients don't have to stage their treatments over days or weeks. Fewer surgeries mean less cost, more convenience and decreased risk of complications. This also may help with recovery.
How many procedures have taken place in the hybrid OR?
Dr. Hupp: Since the opening of the hybrid OR in September 2017, our surgical teams have treated more than 80 vascular cases. All vascular procedures at Sky Ridge now take place in the hybrid OR. This technologically advanced room has everything we need to provide patients with the highest-level care.


Education:

Bachelor's Degree: University of Colorado, Boulder
DO: Kansas City University College of Osteopathic Medicine, Missouri (formerly University of Health Sciences College of Osteopathic Medicine)
General Surgery Residency: General Surgery, University of Kansas, Kansas City
Vascular Surgery Fellowship: University of Missouri, Columbia

Board Certified:

Board Certified Vascular Surgery, The American Board of Surgery