Rebuilding Strength |
by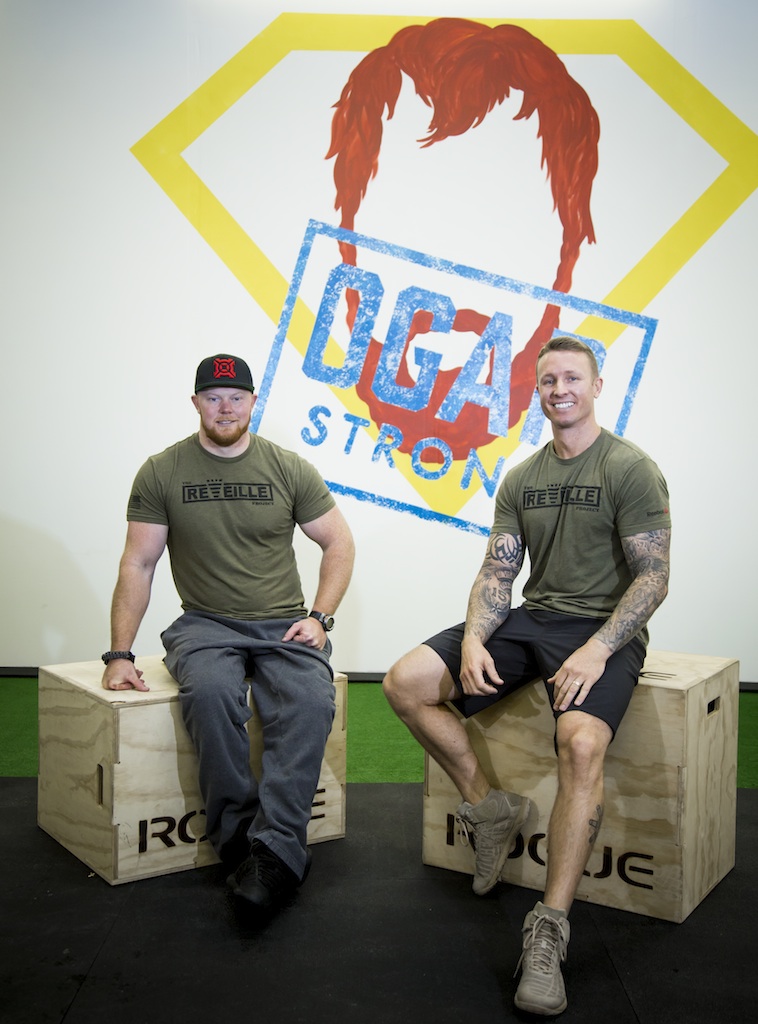 Injured CrossFit champ partners with military veteran, launching inspirational gym
On the evening of Jan. 11, 2014, TV news viewers watched in horror as a grainy 5-second video showed Colorado-based CrossFit champion Kevin Ogar hoist a 235-pound barbell over his head during a competition, drop it suddenly on his back, and collapse in agony, his spine instantly severed. In the coming days, as Ogar fought for his life, and the grisly video went viral, news and social media sites lit up with criticisms of the 15-year-old sport – which incorporates cardio moves with quick reps of heavy lifting, often performed while already fatigued. "Was Ogar's injury the result of too much weight and not enough rest?" asked Sports Illustrated. "This gives all the Crossfit weekend warriors a reason to pause," warned Gawker.com.
Ogar, a beloved coach who had lived and breathed CrossFit for seven years, had overnight become the poster child for its perils. But today, he insists they got it all wrong. "A lot of people say CrossFit is what hurt me," he says, seated in his wheelchair at the entrance to his new, 4,800-square-foot gym, CrossFit Watchtower, in Littleton. "In reality, CrossFit saved my life."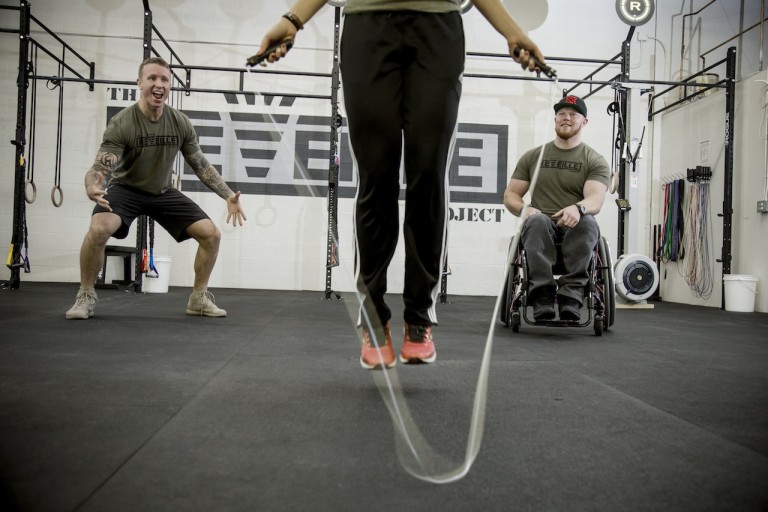 Two years after the injury that left him paralyzed from the waist down, 30-year-old Ogar owns his own gym and is back to competing – bench-pressing 400 pounds as he eyes a spot in the 2020 Paralympic Games. He has become a tireless advocate for adaptive CrossFit, developing programs for amputees, traumatic brain injury sufferers, and others with disabilities. And he recently co-founded the Reveille Project, a nonprofit that helps military veterans heal physically and emotionally via CrossFit.
Meanwhile, he contends that an unsafe event set-up – not the sport he loves – was to blame for what happened. "I was in the wrong place at the wrong time. To say that what happened to me proves CrossFit is dangerous is the dumbest thing I have ever heard."
Life-changing moment
It was just before 1 p.m. at the OC Throwdown in Orange County, Calif., when Ogar took to the floor before a thousand cheering fans, his family looking on back home via live web-streaming. That morning, as part of the multi-stage fitness competition (not an officially sanctioned CrossFit competition) he had raced three miles, carrying two 70-pound kettle bells for mile 1, one for mile 2, and none for mile 3. He rested, then did a few warm-up lifts back stage. His next event was the snatch – an explosive move in which competitors hoist the barbell from the ground to above their head. The 235 pounds was far less than his personal record of 300 pounds. He assumed the $10,000 cash prize was in the bag.
But something went wrong before Ogar could finish the move. Rather than ditch the bar, get out of the way, and start over as he'd intended, he felt it glance across the top of his back. That alone didn't hurt him, he believes. In power-lifting, it's not uncommon for a bar to glance off a competitor's back. Instead, he says, the barbell bounced off weights stacked directly behind him and hit him again with brutal force lower down on his spine. "It was like having every nerve in your body on fire."
Ogar contends that had those weights not been there (a strong no-no by CrossFit safety standards), he wouldn't be in a wheelchair. Event organizers, who could not be reached for comment, have maintained in the past that "proper safety precautions were taken." The matter will likely be settled in court.
For now, Ogar prefers to focus on what happened after his injury as a testament to what CrossFit is truly about. As he lay in a California hospital bed with an 18-percent chance of survival, his CrossFit community mobilized, flooding him with cards and letters, setting up a website, and raising a quarter-million dollars for medical bills within a week. (Ogar had no insurance). As doctors rebuilt his spinal column, they credited his fitness-induced high red-blood-cell count for helping him pull through surgeries. If his back muscles hadn't been so developed, they told him, the accident would have likely killed him.
Rebuilding strength
During his six weeks at Craig Rehabilitation Hospital in Denver, Ogar turned to CrossFit to help him regain his strength, physically and mentally. "In CrossFit, challenge is perceived as something you want to do, not something you shy away from. The mental toughness gained can help you through tough times," he says.
Veteran U.S. Marine Ryan Foster, 34, agrees. After two tours in Iraq, where he suffered a traumatic brain injury, hearing loss, and neck damage during a Humvee explosion, he battled post-traumatic stress disorder, drank to excess daily, and lived on a steady diet of fast food. "I was struggling to find my purpose," Foster says. He met Ogar at a CrossFit gym in 2009 and credits him with helping him turn his life around. "He was an unbelievable coach and had a huge heart," Foster recalls.
For years, the two kicked around the idea of forming a nonprofit that would help restore vets to health via CrossFit. Once Ogar got hurt, the effort stalled. But in July, their Reveille Project was born, offering free, one-year CrossFit memberships, plus nutritional, psychological and spiritual support to veterans. Ogar could not be a more fitting coach, Foster says.
"We all go through different traumatic things in life, and we think, 'This is it. I am never going to be the same again.' He shows that you can still do amazing things. Life doesn't stop."
For more information, log onto www.thereveilleproject.org.
Tags: CrossFit, Kevin Ogar
Leave a Comment
Please be respectful while leaving comments. All comments are subject to removal by the moderator.