Riding a wave: Aging athletes adopt new ways for staying in the game |
by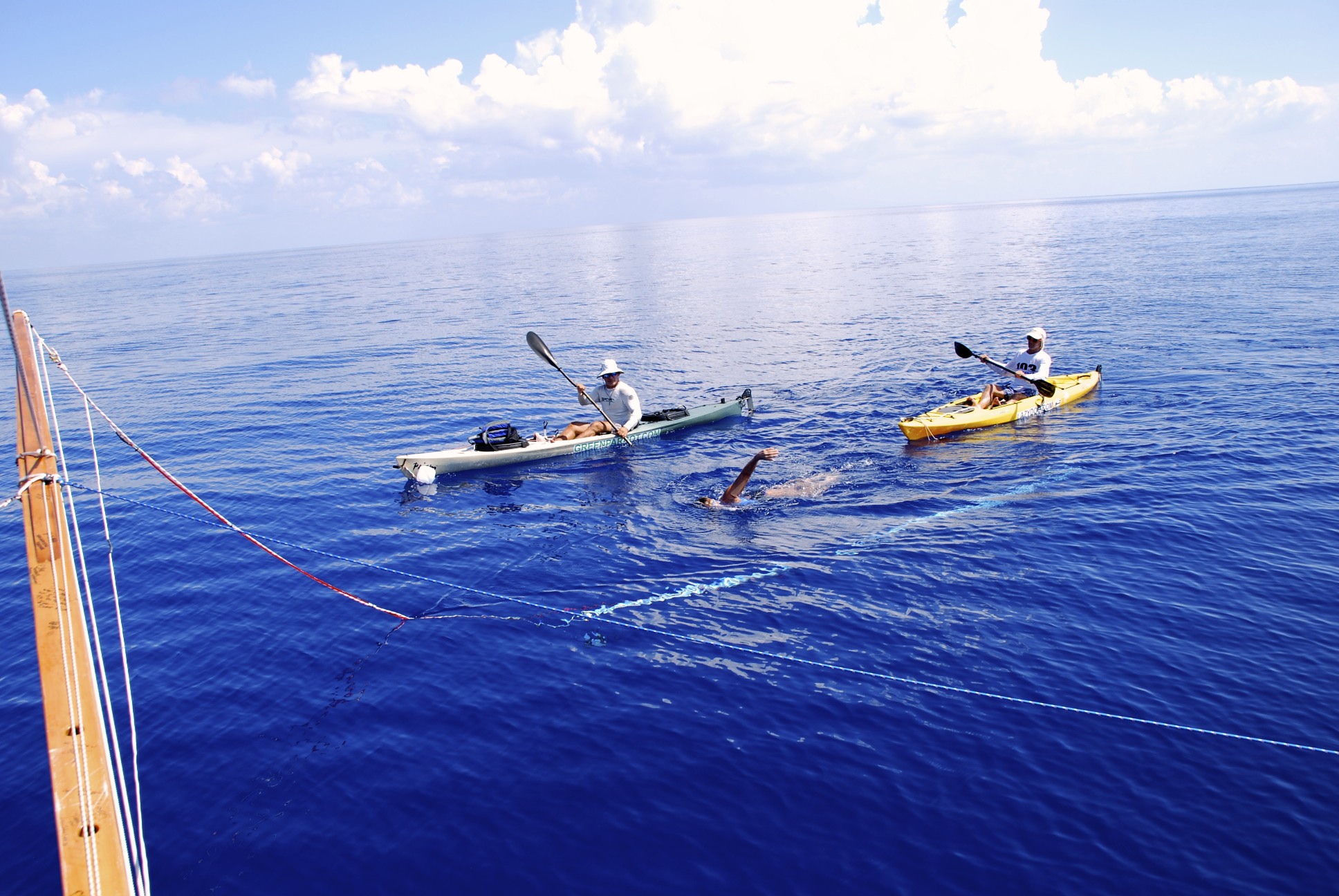 Standing on a Florida beach after her historic 53-hour swim from Cuba, a sunburned and ecstatic Diana Nyad looked into the TVcameras in September and delivered a potent message to her fellow baby boomers: "You are never too old to chase your dreams."
At age 64, the legendary endurance swimmer had just become the first person ever to make the 110-mile journey without the aid of a shark cage. She had also become the poster child for a generation of athletes – from runners and cyclists to rowers and triathletes – who are refusing to let age keep them from the starting line.
"What we are doing in our 60s is not what our parents were doing in their 60s," says 66-year-old Boulder runner Frank Shorter, whose 1972 Olympic marathon win is credited for launching the U.S. running boom. "We are the first wave in a major paradigm shift, and we get to ride it just like we rode the wave of the first running boom."
In fact, 50-plus athletes make up one of the fastest-growing demographics at races. According to trade group Running USA, they constitute 18 percent of marathoners and roughly a quarter of half-marathoners. At the 2011 New York City Marathon, 9,536 athletes were 50 or older. That year in Hawaii, nearly 2,500, 60-plus runners completed the Honolulu Marathon.
Cycling is also enjoying a surge in older participants, with the median age for the seven-day, 500-mile Ride the Rockies hovering around 51. Meanwhile, 13.5 percent of those who completed a triathlon in 2012 were older than 50, according to USA Triathlon.
Fitness-industry observers attribute the trend to everything from new joint-replacement technology, to the rise of "masters" competitions for 40-plus athletes, to a shift in mindset about what "seniors" are capable of achieving. But local athletes say it also centers on body maintenance earlier in life and a willingness to try new things as old favorites grow harder.
Here's a look at how three local champions have stayed in the game:
Frank Shorter
Olympic Marathon Gold Medalist
66
Seated in his North Boulder home, looking out on the bustling running trail beyond his kitchen window, Olympic gold medalist Frank Shorter vividly recalls the day he realized he was slowing down.
"It was in 1983 – a 10K in my hometown of Middletown, New York," he says, his round spectacles perched atop his shock of white hair. "I'm all alone, running with no shirt on, and all of the sudden it occurs to me – this is a lot harder than it should be. I won the race, but I knew right then I was on the far side of the bell curve."
Thirty years later, Shorter still runs 35 to 40 miles a week, and is prepping for the Boston marathon in April, thanks largely to a decision he made way back then: Rather than mourn the fact that he wasn't going to get much faster, he made a conscious decision to slow down and take care of his body, so he could keep running throughout his life.
In his 40s, when an old back injury began taking a toll, he lightened up on running and discovered spinning and duathlons (run, bike, run). He was crowned Duathlon World Champion two years in a row. In his 50s, when getting an intense enough workout on the track became trying, he discovered the elliptical machine and started cranking up the settings to get his heart rate up without all the pounding.
Now, in his 60s, he has added in weight training to counteract the muscle loss that inevitably comes with aging and stretching and swimming to nurture a body that is no stranger to injury. "If you are active, you get hurt," says Shorter, who has a resurfaced hip, a couple of fused vertebrae, and a shoulder that was rebuilt after he dislocated his rotator cuff in a running fall on Kenosha Pass. "You do all these weights and all this stretching not just because you want to look good, but because it serves as a sort-of quasi rehab throughout your life."
With 177,000 miles of running under his belt, Shorter is hardly slowing down. He rises at 7 a.m. to ride the spin bike for 50 minutes, catches up on work (consulting for races), runs for an hour in the afternoon five days a week, and hits the gym two or three times a week. At a svelte 5'9", 135 pounds, he still weighs about what he did in his prime.
Shorter hasn't run a marathon since 2001. But after the tragic events he witnessed in person at the starting line of the Boston Marathon in 2013, he vowed to run it in 2014. He won't be running fast, he says, but that stopped being a priority a long time ago. "When you get to your 60s, your measure of success is no longer how fast you run," he says. "You realize that just being out there is pretty great in and of itself."
Lynnda Best-Wiss
World Champion Triathlete
62
Oct. 8, 2011, was a day of firsts for Lynnda Best-Wiss. First marathon. First bike ride longer than 100 miles. First swim longer than 2 miles – all as part of her first Ironman-distance triathlon.
She picked a doozy – the notoriously hot and windy Ironman World Championships in Kona, Hawaii (2.4 mile-swim, 112-mile bike, plus a marathon). And she was 60 years old.
"It got really hot, about 98 degrees on the bike. But every time I started to feel bad, I would just look out at the ocean and say, 'Look where I am. I am doing this,' " she recalls. She finished sixth in her age group, with a time of 13:29:04. At age 62, she now competes in about eight triathlons or duathlons per year, consistently placing first or second, and coaches other Colorado athletes (some of them half her age) in run, bike and swim. "It takes work. It really does. But it's never too late to start new things."
Best-Wiss's first love was running. But she grew up in an era before Title IX (the 1972 legislation requiring schools to provide more gender parity in athletics), so running programs for girls were hard to find. "We didn't have a track team or a basketball team. We had field hockey and that was it."
Recognizing her talent, her parents sought out a private coach for Best-Wiss. At her peak, as a 14-year-old runner competing for the Amateur Athletic Union, she could run a half-mile in about 2:13.
But once she started a family and a career as a high school biology teacher, she gave up running. She picked it up casually again, along with cycling, in her 30s, and ironically, an injury brought her back to competition in her 50s."I couldn't ride my bike or run comfortably without pain, so I started swimming. Once I was doing all three things I thought: I bet I can do a triathlon."
She completed her first, the Danskin Triathlon in Aurora, in 2004. "It felt awful. I was scared to death I would drown on the swim." But she placed second in her age group and was hooked. She has since competed in five world championships, placing second in her age group in the Ironman 70.3 World Championships in Las Vegas in 2012.
She credits her superb health, and the fact that she has all of her own joints intact, to a gluten-free diet, regular massage, a daily stretching routine called Egoscue, and a conscious resistance to laziness. "There are times I would really like to sit around and just do nothing," she says. "But every day, I make a point of doing at least one active thing."
Dr. Richard Flanigan
Cardiologist and World Champion Rower
74
Richard Flanigan was a young oarsman rowing for St. Joseph's College in Philadelphia in 1963, when it looked like his dream was about to come true: He and his twin brother had been invited to go to Tokyo with the U.S. Olympic rowing team. Then, life intervened.
"My brother and I both got accepted to medical school and they would not defer us," recalls Flanigan, who came to medical school in Colorado. "We left the team, and the team won the gold the next year. It was bitter sweet."
It would be 20 years before he rode competitively again, inspired by the emergence of master's rowing competitions. "Before, most people just dropped out after college. These events have revolutionized things," he says. He came back with a vengeance, with his team winning the World Championships in 1984 and returning every year since – to places like Belgium, Italy and Australia – to place in the top three.
Since his teammates are spread out around the country and often don't come together until race day, the pressure is on all year. "That's what's so great about it," says a lean, youthful-looking Flanigan. "You have something to look forward to, and you know your buddies are relying on you."
He, too, has benefitted from the miracles of joint replacement (he has a new right hip and left knee, thanks to years of marathon running). But overall, he rates his health as "superb." In addition to working long hours at his Denver cardiology practice, he exercises daily on a state-of-the-art rowing machine in his home, and he has literally written the book on how to stay youthful longer: "Longevity Made Simple: How to Add 20 Good Years to Your Life."
His No. 1 tip: Sign up for an event and find some friends to do it with you. "Competition is the best motivator, and if you can share your exercise with someone else who you have to be accountable to, it makes it so much easier."
Tags: aging, athletes, Colorado athletes
Leave a Comment
Please be respectful while leaving comments. All comments are subject to removal by the moderator.