Traveling with tykes |
by
Replacing worry with anticipation just takes preparation
There it is, in big red letters, scrawled across the kitchen calendar: "V-A-C-A-T-I-O-N." It's a reminder that's supposed to induce excitement and yearning. So why do you feel angst? We'll give it to you in one word: kids. Traveling with tots can bring great times or sheer stress, depending on your prep work. So with traditional vacation season upon us, we've gathered a goldmine of tidbits, offering parents poised for takeoff a guide to happy travels.
The heat is on
Sun and heat are often guiding lights for vacationers, but the warmth and relaxation brings health hazards for kids. Pack sunscreen with a minimum SPF 30, says Dr. Robin Larabee, a pediatrician at Sapphire Pediatrics. "And dress your children in clothing with built-in sun protection – particularly when swimming," says Dr. Nicholas Kyriazi, a pediatrician at Littleton Pediatric Medical Center. Kyriazi also suggests washing children with a mild, fragrance-free soap after a day at the pool. "Sunscreen and chlorine are common causes of rashes on children's skin."
Most resorts don't have lifeguards, so supervision is up to parents, Kyriazi says. "Swimming lessons prior to your vacation are a good idea." If you're by the ocean, Kyriazi urges you to discuss the dangers of strong waves, currents and riptides with children and the importance of staying within their depth.
A warm climate often brings mosquitoes, so Kyriazi encourages repellent with a DEET concentration of 10 percent or less for kids. The best line of defense is covering up with clothing, so he suggests spraying repellent on the ends of sleeves and the brims of hats so less of the product is on children's skin.
Babies and children can quickly become overheated and dehydrated, so push hats and fluids, doubling the amount of water they usually drink when it's hot, Kyriazi says. But be forewarned, he says. "This will mean more bathroom trips."
Same-old, same-old
While keping to kids' schedules on vacation can be hard, it can temper meltdowns. "If you're in a new time zone, try to adapt as much as possible on the first day," Larabee says. "Eat meals at the right time, and don't forget a snack for hungry kids in the meantime." Keep bedtime routines the same when possible. If at home, it's snack, teeth and bed, then try to adhere to that on vacation, Kyriazi says.
"Children who sleep on their own at home should continue sleeping on their own on trips," Larabee says. "Bring the pack 'n play or ask for a portable crib at the hotel, rather than allowing kids to bed-share with you."
Are we there yet?
To avoid impatience, keep your little ones entertained, particularly on a long road trip. But remember the American Academy of Pediatrics recommends limiting screen time to two hours a day for kids.
"On a road trip, parents may have to break this rule a little, but they should play old-fashioned car games, too," Kyriazi says. Try the 'alphabet game' with road signs and license plates, and challenge your children to spot a particular color of car first. Bring books and travel games, such as Rubik's cubes and "Brain Quest" trivia booklets. "Children also benefit from quiet time looking out the window, taking in the landscape and clearing their brains," Larabee says.
Bring hand wipes, water, snacks, pillows, blankets and music, such as lullaby CD's, for a smoother ride, and both doctors concur that frequents stops should be made. "Let children know the itinerary so they can look forward to the next stop, be it a national park, an historic site or a cool building," Larabee says.
Don't just wing it: Follow these tips for flying with babes
Feed during takeoff and landing to ease changing pressure in babies' ears, especially with landings. Start about 15 minutes before descent. – Dr. Nicholas Kyriazi, Littleton Pediatric Medical Center

Use nighttime diapers for long flights. – Lizzie Haber, mom to Olivia, 5, and Sophie, 2

Use the Boppy Travel Pillow. "When we fly, my son nurses on it, naps on it and sits on it." – Jamie Park, mom to Harrison, 16 months


Travel in the morning when babies are more tired and will nap. – Jenn Johnson Ochse, mom to Clementine, 2, and Magnolia, 8 months

Buy an XL heavy-duty laundry bag for car-seats, instead of pricey travel bags. – Ashley Oliphant, mom to Adelaide, 13 months

Bring an extra outfit for your baby and yourself. "Smelling like baby vomit is bad news." – Andrea Ollom, mom to Atom, 21 months


Entertain baby with items found on the plane, such as water bottles, magazines and plastic spoons, instead of toting lots of toys around. – Lisa Riley Wall, mom to Avery, 16 months


Sit in an aisle seat. "It's easier to nurse and to walk up and down the aisle to settle your baby." – Kaycee Majxner, mom to Harper, 2, and Stella, 7 month
Destination: family fun
Here are some family-friendly resort ideas, depending on which direction you want to travel:
The Westin Kierland Resort & Spa, Scottsdale
WHY KIDS WILL HAVE A BLAST: The CFO (Chief Fun Officer) teaches kids about Arizona's history and culture, plus hosts hula-hooping, limbo, relay races, pajama parties and campfires. Oh, and let's not forget the awesome FlowRider wave simulator. Nearby, they'll love Scottsdale Stadium, Butterfly Wonderland, Macdonald's Ranch and the Musical Instrument Museum. WEB: www.kierlandresort.com
STARTS AT: $149 per night (check out the 'Aloha Package').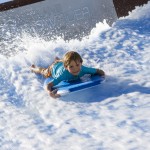 The Resort at Paws Up, Montana
WHY KIDS WILL HAVE A BLAST: The 'Kids Corps of Discovery' includes activities, such as scavenger hunts, gold panning, map reading, hiking, animal tracking, fishing, lassoing, go-karting, movie nights and horseshoe painting, plus daily feedings of the baby animals.
STARTS AT: $540 per person per night for the 'Family Glamping Package'.
WEB: www.pawsup.com

Waikki Village, South Carolina
WHY KIDS WILL HAVE A BLAST: Just 300 feet from Myrtle Beach, this family-owned motel has a pool, shuffleboard and cornhole. Explore nearby attractions like Ripley's Aquarium, waterpark Splashes, Shark Attack Mini Golf and Pirates Voyage dinner show.
STARTS AT: $84 per night for a family room.
WEB: www.waikikivillagemb.com
Tags: travel with kids
Leave a Comment
Please be respectful while leaving comments. All comments are subject to removal by the moderator.