A Place For Grace |
by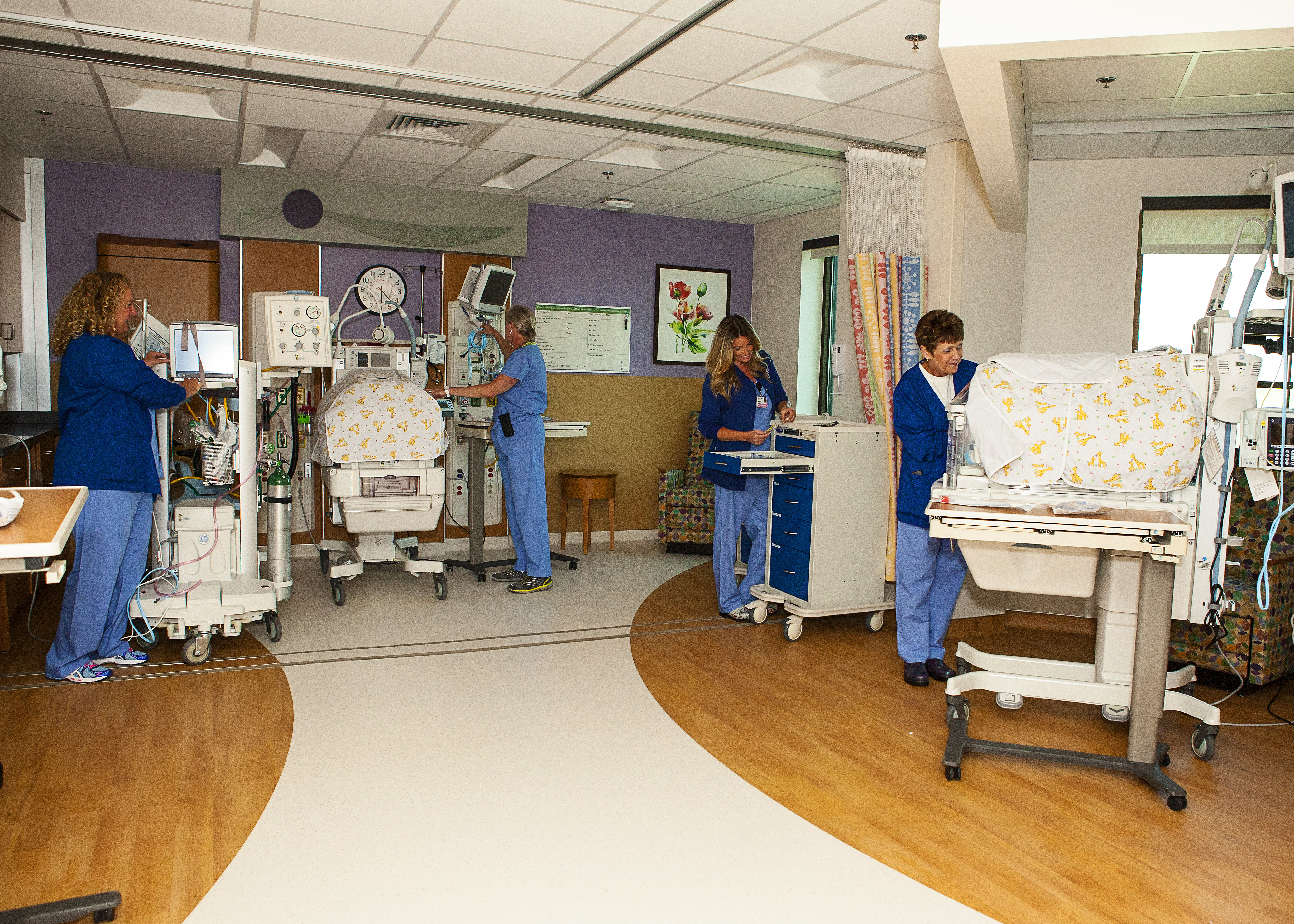 Women's Hospital at Sky Ridge provides expert care, comfort and 'grace' to high-risk pregnant patients
Clasping a bouquet of bright-yellow daisies, little Elle Diedrich steps inside the hospital room, her tow-headed younger brother bounding behind. The pair, ages 7 and 5, smile at the pregnant woman perched in the bed, seemingly undaunted by the monitors attached to her as they continue with their mission: to make this patient's day.
Elle and Cal have brought flowers and smiles to many women as part of "Acts of Grace," a nonprofit, volunteer organization their parents founded and one aspect of a Sky Ridge Medical Center program aimed at making its antepartum patients feel more at home. Now, with the hospital's recent expansion, more south-Denver women with high-risk pregnancies and bound to hospital bedrest for days, weeks or months can feel and be closer to home while receiving expert, around-the-clock care.
"Our antepartum care starts with keeping our patients closer to their families before birth and to their babies afterward, as some of these infants may spend days or weeks in the Neonatal Intensive Care Unit (NICU)," says Diane Lucero, a Perinatal Nurse Practitioner with Obstetrix Medical Group at Sky Ridge. "Then, with our amenities and programs, such as Acts of Grace, we let these moms-to-be know they are not alone."
The newly-expanded Women's Hospital at Sky Ridge includes a higher-acuity, 23-room NICU equipped with the technology and expert staff to care for premature babies as young as 24 weeks gestation. The addition also includes a new, eight-room antepartum unit, where a highly specialized staff monitors and cares for these expectant moms. The team is comprised of perinatologists, neonatologists, antepartum nurses, perinatal nurse practitioners, neonatal nurse practitioners, lactation consultants and more to provide a full complement of care, including often much-needed emotional support.
"You're in a hospital room, and you feel fine, but emotionally you are a train wreck," says Marlena Diedrich, Cal and Elle's mom, who was on bedrest at sister hospital Presbyterian St. Luke's for more than two months with Elle and her twin sister, Grace. Reasons for bedrest orders vary, from a chronic illness in mom to a health issue with baby, as was the case with Grace, who didn't survive. But almost always, these hospitalizations are unexpected, come at a time that is supposed to be joyous, and tear women away from their homes, families and jobs. "You can feel so isolated," Diedrich says.
To prevent other women from feeling so alone, Diedrich and her husband launched Acts of Grace, which includes a special room at Sky Ridge called "A Place of Grace." Furnished with cozy couches and a large community table, the room provides a place for patients to gather to support each other or visit with family members.  "I think the biggest challenge for the antepartum moms is they miss their family," Lucero says. "This is a happy place where their children can come see mom other than a hospital room, which they might find scary."
Of course, veteran volunteers Cal and Elle don't find hospitals scary, as they continue their regular visits with expectant moms. "It's given the family a positive output," Diedrich says. "We hope to do it forever. Helping even one family feel a little better is worth it. And we're helping many families feel more at home."
Tags: Sky Ridge Medical Center, Women's Hospital
Comments
Leave a Comment
Please be respectful while leaving comments. All comments are subject to removal by the moderator.