Colon resection using the daVinci surgical robot |
by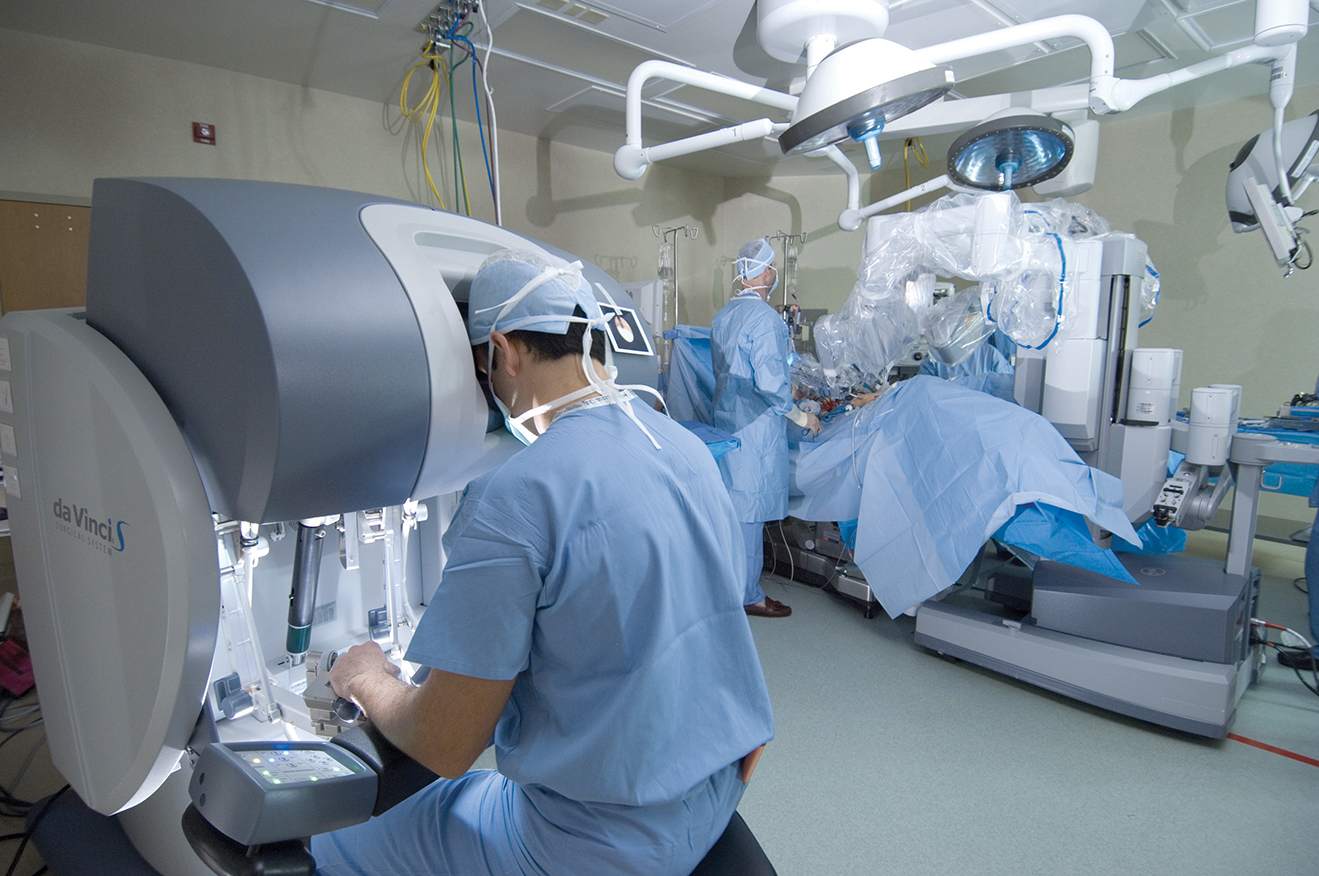 Performed by Dr. David Longcope of Rose Medical Center, Denver
Colon resection:
Generally involves removing damaged or diseased portions of the bowel and then reattaching the remaining bowel for a return to normal function.
Of note:
Dr. Longcope was the first board-certified colorectal surgeon in Colorado to use the da Vinci system for this surgery.
Benefits:
Open colon resections require a large (9-inch-plus) vertical incision and manipulation and stretching of internal organs and tissues. The da Vinci allows for improved dexterity for working in tighter places, such as the pelvic area, and provides better, 3-D view of the blood vessels, allowing for more precision when reattaching the bowel. This allows for a quicker return to normal diet and to normal bowel function, which results in shorter hospital stays.
Since 2002, when HealthONE hospitals became the first in the Rocky Mountain Region to introduce the da Vinci® Robotic System into the operating room, thousands of patients have benefited from the most-advanced laparoscopic surgery available today. Although the four-armed surgical robot never fulfilled its original intent — providing remote battlefield surgery for the Army in the late 1980s — it has done everything from removing cancerous prostates and kidneys to repairing heart valves and prolapsed uteruses, all while putting patients back on their feet more quickly than traditional surgeries. HealthONE continues to lead the Denver area into the robotic era, with the recent debut in bariatric, as well as colorectal, surgeries.
Although surgeons are still in control with da Vinci®, they sit at a console a few feet away from the patient, peering through a high-definition, 3-D, viewing system. Looking more like a teen playing a video game than a doctor performing surgery, the surgeon uses hand controls to manipulate the robotic arms, which are inserted strategically in the patient through small (less than half inch) incisions and mimic the surgeon's motions, but on a much more minute scale. Superb range-of-motion, coupled with a magnified vision system that surgeons say gives the illusion of being inside the patient, can lead to excellent outcomes with less risk of blood loss, infections, scarring and other serious complications.
Tags: Colorectal Surgeon, da Vinci Robotic System, Rose Medical Center
Comments
Leave a Comment
Please be respectful while leaving comments. All comments are subject to removal by the moderator.