Fleetwood Mac Guitarist Neale Heywood Back On Tour |
by
Neale Heywood, a guitarist for Fleetwood Mac, first injured his back when he was in his 20s after lifting a heavy piece of equipment. Chronic back pain would plague Heywood for the next 30 years. In 2011, while preparing for a performance at Red Rocks Amphitheater, Heywood's pain became too much to bear. "I was in agony every time I slung the guitar strap over my head. I had to back out of a European tour," he says. It was while he was in Colorado that Heywood first heard about Dr. Woosik Chung, a spine surgeon at DISC.
Images revealed a severe shifting of vertebrae, a condition known as spondylolisthesis, as well as herniated, or ruptured, discs. "His lower spine had essentially collapsed. As a result, the nerves were severely compressed leading to pain and numbness on the left side of his body," says Dr. Chung. Heywood underwent spine surgery to repair collapsed discs and free up space for spinal cord nerves. Spine fusion surgery helped to structurally stabilize his spine. Heywood took off a year from playing to focus on recovering, and then he went back on tour.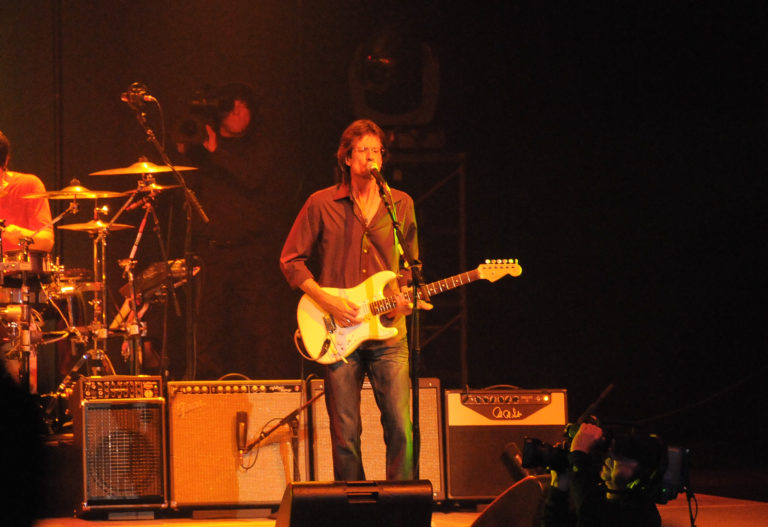 In 2016, Heywood was back at Dr. Chung's office with complaints about neck pain and stiffness. Herniated discs were yet again to blame. Instead of doing a fusion surgery, Dr. Chung performed cervical disc replacement surgery using artificial discs, a type of mechanical device, to replace the damaged ones. This minimally invasive approach requires no screws or bone fusing, thereby helping to preserve range of motion for the entire spine. The recovery also tends to be easier. Just a few days after surgery, Heywood went hiking in the mountains. "Dr. Chung saved my ability to play and gave me back the ability to enjoy life," he says. You can catch Heywood in action with Fleetwood Mac at the Pepsi Center on Monday, December 3.

Tags: DISC, spine care
Leave a Comment
Please be respectful while leaving comments. All comments are subject to removal by the moderator.