Innovation In Dementia Care |
by
Socially assistive robot designed to help people living with dementia and overburdened caregivers.
"Robotics technology; this is the future," says University of Denver Professor, Dr. Mohammad Mahoor and founder of DreamFace Technologies (pictured below).
Mahoor saw an opportunity for service through his development of robotics. He recalls visiting elder care centers and noticing a shortage of caregivers as well as social isolation among patients —- which prompted him to question how the latest technologies, such as robotics, could create better life experiences for the aging population and support caregivers. 
In 2016 the first prototype of Ryan was brought to life at the University of Denver, by Mahoor and his team of his students. Ryan is a Socially Assistive Robot designed to be a companion to patients with conditions such as dementia, depression and autism, by supporting their cognitive, emotional and social well being.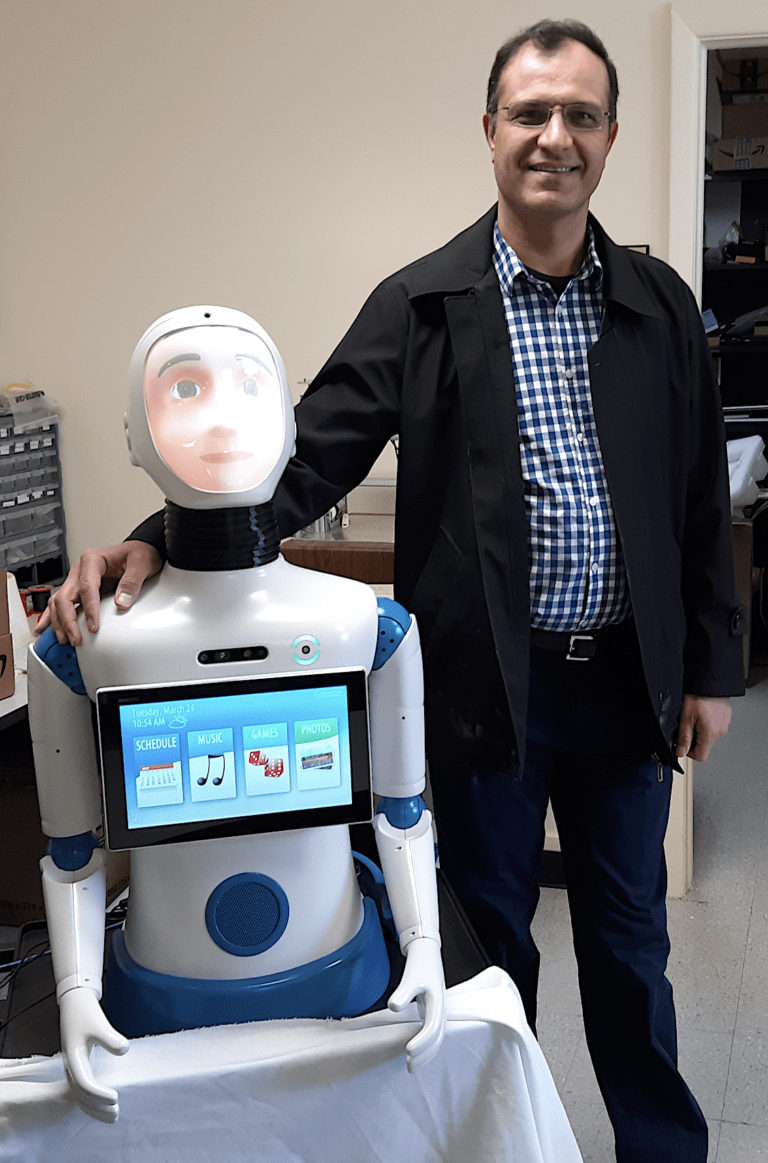 Care, Help & Support
According to the Compendium of Residential Care and Assisted Living, Colorado does not require a minimum staff to resident ratio, leaving this to the discretion of facilities. As many caregivers in elder care facilities are responsible for a number of patients, and are often overwhelmingly outnumbered, Mahoor emphasizes that Ryan is not meant to replace human interaction with caregivers, or to undermine their work. Instead, Ryan's purpose is to supplement areas where there may be "holes."
"There are many burdens on caretakers," Mahoor explains. "They might be under a lot of pressure or not have a lot of time, but then they have a robot as their assistant."
Ryan is equipped with four core technologies, allowing him/her to be interactive, emotive, expressive and perceptive. He is also capable of fully autonomous spoken dialogue and is able to have conversations that range from history to favorite T.V. shows. 
Despite Ryan's many capabilities, Mahoor feels that Ryan's most valuable function is simply as a companion to its users; someone to have conversations with and to listen. "We are all human beings and we are social," Mahoor says. "We need to talk to others, otherwise this is going to affect our wellbeing." 
For Mahoor, it is equally important that Ryan is emotive, and capable of responding to human emotion the way a friend would. "Ryan is empathetic and can recognize your facial expressions and emotions," he says. "He/she can mirror your happy face and smile back. If you're sad then Ryan would not show a negative or sad face but would say, 'hey what's going on today?'" 
A tablet on Ryan's chest is also programmed to display photographs from its users' past as it verbalizes stories about the photographs that themselves or their family have written. This is used as a common treatment for people with dementia, called reminiscence therapy, as they often find it is easier to recall past experiences.
Particularly for those living with dementia, Mahoor and his team included many features, such as cognitive games, to delay the onset or slow the effects of dementia. "These are a set of games that are fun but also have a purpose; to stimulate the brain of people with dementia." Ryan also tracks the memory and mental cognition progress of its users for caretakers to monitor.
Caretakers face many challenges, which are increasing by the day. In the next year, Mahoor hopes to begin to commercialize Ryan to help with these challenges and optimize care for elders and people with dementia. 
Tags: dementia
Leave a Comment
Please be respectful while leaving comments. All comments are subject to removal by the moderator.