Surgical Expertise Helps Patient Keep His Voice Box While Treating Rare Cancerous Tumor |
by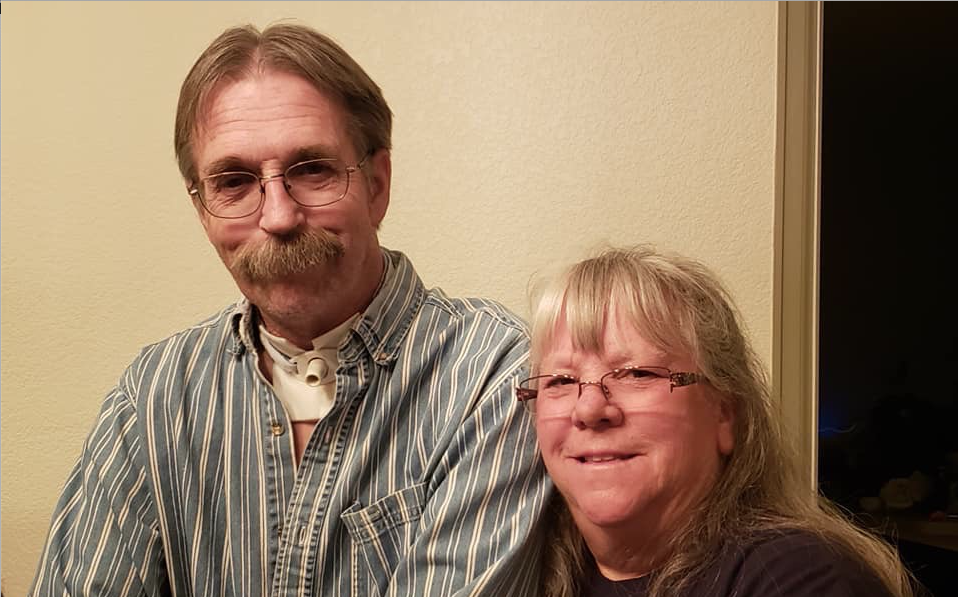 It started as a sore throat. And then Pueblo resident Ken Stevens found it difficult to swallow. When these problems got worse instead of better, Stevens went to his family doctor who discovered a lump in the back of his throat. That lump turned out to be cancer, so Stevens headed north to see Dr. Andrew Nemechek, a head and neck surgeon at Swedish Medical Center's Head and Neck Cancer Center.
Dr. Nemechek confirmed that Stevens, a 65-year-old mechanic, had leiomyosarcoma. This rare soft tissue cancer can develop anywhere in the body, but it usually affects the abdomen or other smooth muscle tissue. Stevens' tumor was located in an unusual spot for this type of cancer: the back of his throat near his larynx, or voice box. "Dr. Nemechek recommended a combination of surgery and radiation therapy, but he cautioned that I might lose my ability to talk," recalls Stevens. The idea of losing his voice worried Stevens almost as much as the cancer. "He assured me that he would do all that he could to keep me talking, and I felt very confident in his skills," Stevens says.
"Thanks to the exceptional care I received at Swedish, I can look forward to talking up a storm, eating real food again and enjoying life,"

Ken Stevens
In February, Stevens underwent 25 rounds of daily radiation targeting the tumor. In June, Dr. Nemechek performed a pharyngectomy to surgically remove the cancerous tumor along with some surrounding lymph nodes. Due to the tumor's hard-to-reach location, surgery was extensive and required an ear-to-ear incision. In addition to removing the tumor, surgeons removed skin and soft tissue from Stevens' chest and arm to reconstruct part of the esophagus and to serve as grafts to help the surgical sites heal. Stevens received weeks of care at The Center for Wound Healing and Hyperbaric Medicine at Swedish. The surgery was a success, and Stevens kept his voice box and his ability to talk.
While Stevens' wounds healed, a tracheotomy, or tube in his throat, helped him breathe. He underwent weeks of speech therapy to regain the ability to swallow, but still has a gastrostomy tube (G-tube) to ensure his healing body gets enough nutrients. Stevens is gradually regaining his strength and stamina. "Thanks to the exceptional care I received at Swedish, I can look forward to talking up a storm, eating real food again and enjoying life," Stevens says. He's also itching to get back to work restoring his late mother's 1935 Ford Coupe.
THE HEAD AND NECK CANCER CARE CENTER AT SARAH CANNON CANCER INSTITUTE AT SWEDISH MEDICAL CENTER
The Head and Neck Cancer Care Center at Swedish Medical Center provides leading edge treatments for cancerous and noncancerous tumors, such as those that affect the thyroid, throat, larynx, oral cavity and salivary glands. Here, patients and their loved ones receive compassionate care from an interdisciplinary team of experts in head and neck tumor surgery, medical and radiation oncology, oral surgery, reconstructive surgery and speech therapy. Nurse navigators guide patients through diagnosis, treatment and recovery.
As a member of the Sarah Cannon Cancer Institute, Swedish Medical Center provides world-class integrative therapies, including access to clinical trials. Anyone can call the askSARAH dedicated helpline at 303-253-3325. A registered nurse is available 24/7 to answer questions about a cancer diagnosis, symptoms, screenings or treatment options.
Tags: Swedish Medical Center
Leave a Comment
Please be respectful while leaving comments. All comments are subject to removal by the moderator.