Sweeter by the Dozen: Highlands Ranch couple welcomes 12th child on 12/12/12 |
by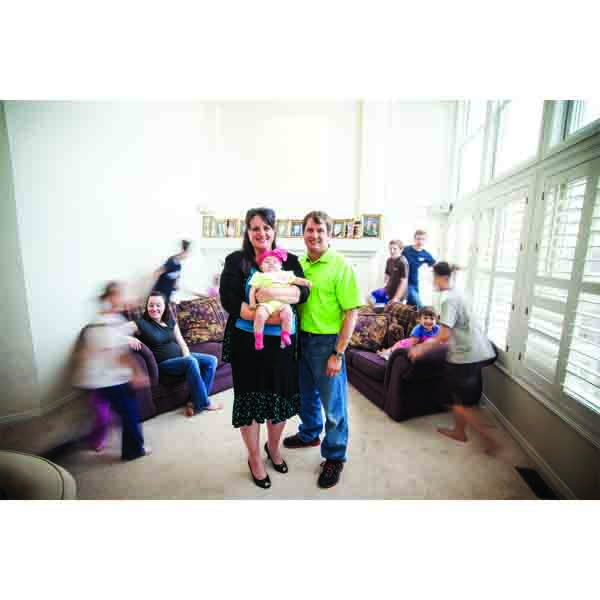 At 8:12 p.m. at Sky Ridge Medical Center in Lone Tree, Darren and Kerri Bunker welcomed 7-pound, 3-ounce Nola Sadie Bunker into the world on a rare and, many believe, auspicious birthday: 12/12/12.
It will be another 88 years before all three numbers in a date are the same – a fact that prompted expectant parents everywhere to cross their fingers for a triple-twelve birth.
But for the Bunkers, those digits were significant for another reason: Nola is their 12th child.
"I always wanted a big family," says 41-year-old Kerri – herself the oldest of 12. "Growing up, there was always something going on. We were the house that all the neighborhood kids wanted to come to." Adds Darren, 47, and the middle child of nine: "I just loved the camaraderie. You always had someone you could trust."
"I actually think people with two or three children have it harder than I do. They have to do all the laundry and dishes and diapers and everyone depends on them," says sharply-dressed, seemingly unflappable Kerri. "My big kids are a ton of help."
Step into the Bunker's Highlands Ranch home today and you find a relatively calm, remarkably tidy household that defies large-family stereotypes put forward by movies like Steve Martin's classic comedy, "Cheaper by the Dozen." With 10 kids still at home and a cousin and son-in-law living there too, it is still home to 14. And Kerri also holds down a full-time job as a sales director for Mary Kay Cosmetics. But by being painstakingly organized, cultivating an ethos of cooperation, and being fiercely protective of their family time and alone time as a couple, the Bunkers have created a household families of any size could take a few cues from.
"When you have large families people always look at you and ask 'How do you do that?'" says obstetrician Steven Grover, a father-of-five who delivered three of their children. "They have 12, and they have done a great job raising sharp kids who are well grounded and respectful."
Born and raised in Provo, Utah, the two met at a dance and married soon after Kerri graduated from high school. It wasn't long before she noticed something was missing. "It was so quiet all the time. I would leave the TV on just so there would be some noise."
She gave birth to Heidi, on Oct.19, 1990. Then came Isaac, Thomas, Martin, Hans, Dallin, Tanner, Savannah, Lily, Molly, Lucy, and Nola, arriving roughly every two years over the course of 24.
The Bunkers lost three other children: Twins John and Matthew suffered complications during pregnancy and lived only 22 minutes after their birth in 2007. In 2010, Maxwell was born with Down Syndrome. He passed five weeks later due to problems with his heart and lungs.
"That was hard," says Kerri, her voice cracking as 4-year-old Molly climbs into her lap and puts a tiny, empathetic hand on her cheek. "But the kids have learned a lot through our hard things."
All about teamwork
It's a weekday afternoon at the Bunker household – a rare moment of quiet just before the steady stream of kids begins to shuffle in from school. The living room is immaculate. Molly is quietly playing a computer game on her mom's lap on the couch. Nola is sleeping upstairs. And 2-year-old Lucy is toddling in from her room clad in a diaper and clutching a stuffed puppy.
Twenty-two-year-old Heidi, who is pregnant with her first child and lives in the home with her husband Gene, is in the kitchen unloading groceries.
Darren, an engineer who is currently looking for a job, just left for the first of several trips to pick up kids at school and afterschool activities. And Kerri is chatting with a visitor, answering that question she gets all the time: "How do you do it?"
"I actually think people with two or three children have it harder than I do. They have to do all the laundry and dishes and diapers and everyone depends on them," says sharply-dressed, seemingly unflappable Kerri. "My big kids are a ton of help."
Posted on the wall in each room is a laminated chore list with a child's name on it. Hans, 14, is in charge of laundry (which can amount to three loads per day). Martin, 16, is in charge of the kitchen, where the dishwasher never stops running. Savannah, 9, assures that the entryway, stairs and landing are clean. Allowance is based on age (35 cents per year until you turn 8 and then 70 cents thereafter) so by age 10, the kids are earning $7 every time they complete their chore list, which they can stow away in their college account. Once the kids are old enough to use a stove safely, they learn to cook for 14, taking turns preparing the family dinner.
Kerri uses a commercial breast pump to keep the refrigerator stocked with milk for Nola for times when she's away from the house for work, or busy with the other children. And in the living room is a frequently-used diaper changing station.
"If there is a messy diaper, or she needs a bottle, the kids just take care of it," she says.
Lists and calendars are key
Each Sunday, Kerri and Darren sit down to make a menu and grocery list, and sort through coupons to help keep their $3,000 per month grocery bill in check.
Monday night is family night, when they pile into their 15-passenger van to go swimming, or have a meal out. Date night is Friday night. And Sundays, everyone gets the day off, in honor of their strong Mormon faith.
"That helps us keep our sanity," says Kerri. "We keep a schedule and we try to stick to what's important."
At 3:45 p.m. the door swings open, and the three older boys – Martin, Dallin, and Hans rush in – setting down their backpacks just as baby Nola begins to cry – awakening from her nap.
Without hesitation, one boy heads upstairs to grab the baby and give her a bottle, while another heads to the kitchen to warm up mini chicken pot pies for his siblings.
"It's never boring around here," says Hans, cheerfully.
Soon the elementary schoolers – Tanner, Savannah, and Lily – roll in, crowding into the kitchen to get started on homework, and say hi to Mom before she leaves for a business meeting.
Remarkably, no one is bickering, and their parents seem more content than worn out.
"There is way more joy in it than exhaustion," Kerri says, standing beneath a wall adorned with portraits of her 12 children and a sign that states "All Because Two People Fell In Love."
Will there be a 13th? "I don't know yet," she says. "I would even be open to adopting. I cannot stand to think that there are kids out there without shelter and love."
Tags: parenting, Sky Ridge Medical Center, Steven Grover MD
Leave a Comment
Please be respectful while leaving comments. All comments are subject to removal by the moderator.