Local surgeon sports arsenal of age-fighting eye and facial techniques |
by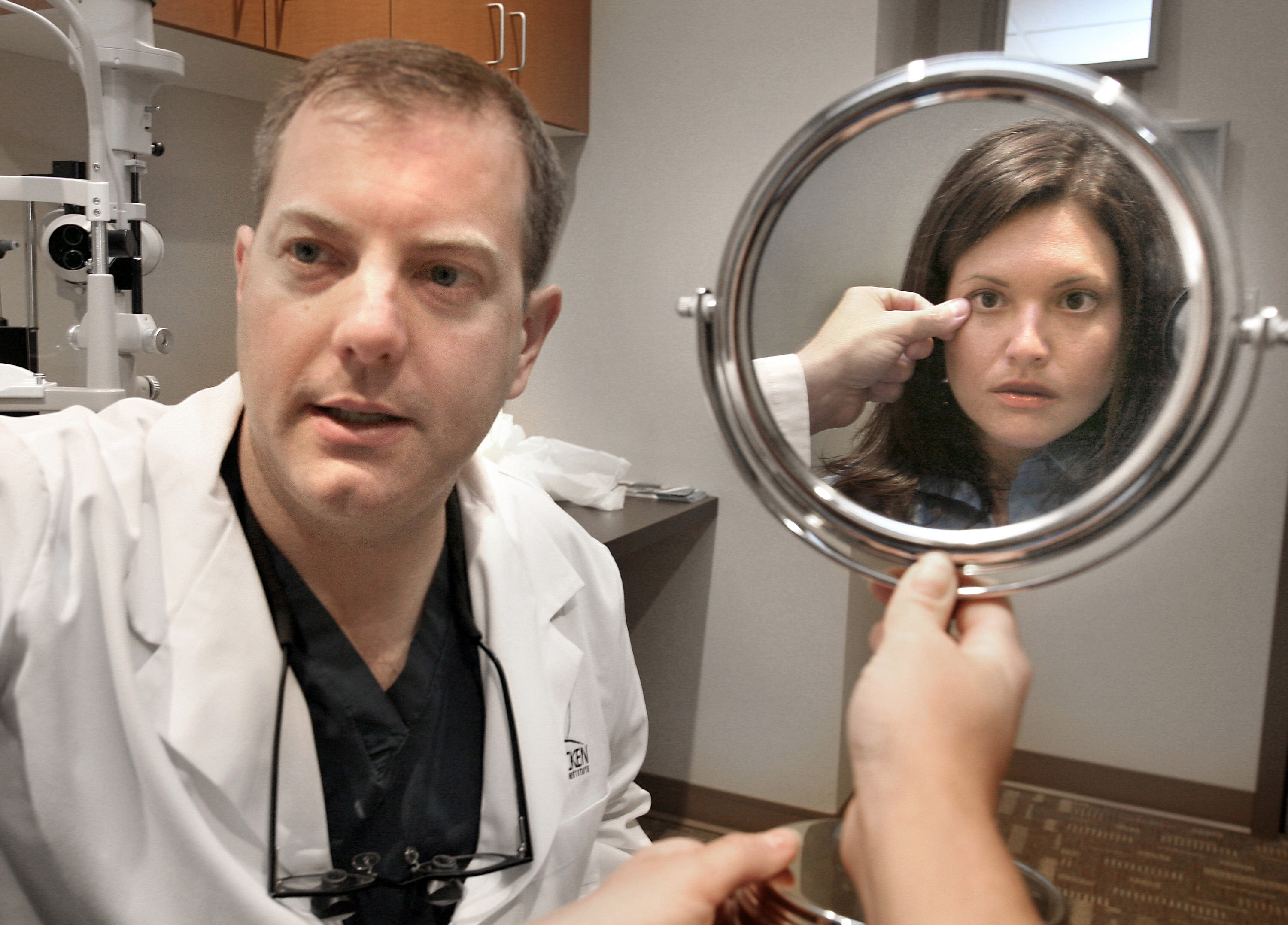 In the battle against aging, some invaders are more easily warded off than others: Flabby arms? Double the pushups. Pooching belly? Lay off the brownies. But when those inevitable signs of time strike the face, devising counterattacks becomes a bigger challenge, often requiring the big guns.
Last year, nearly 14 million Americans fought off sagging jowls and furrowed brows, among other things, with a plastic surgeon as their ally. Botox® and soft-tissue fillers ranked the most popular minimally-invasive counteroffensives, and the number of laser-resurfacing procedures jumped more than 173 percent since 2000, with 466,238 procedures performed in 2011, according to the American Society of Plastic Surgeons.
"The face is our most visible feature and, unfortunately, often the first place to show signs of aging," says Dr. Michael McCracken, a fellow of the American Academy of Cosmetic Surgery and the American Society of Ophthalmic Plastic and Reconstructive Surgery. "Yet many options exist for nearly every aging issue that arises to help people look as young as they feel."
Here are some of the chief facial-aging grievances Dr. McCracken hears from patients, along with solutions he offers, although all patients receive individualized treatment plans.
Sagging tissues.
As elastin supplies decrease with age, and the forces of gravitational pull take hold, tissue begins to droop, giving the aging face an unwanted pug-dog-like appearance.
The problems: Sagging tissue around the eyes, eyebrows and eyelids.
The solution: Brow lift; eyelid surgery.
The numbers: Eyelid surgery remained in the top 5 nationwide, with 196,000 surgeries performed last year.
The process: Specially trained in eye-related surgery, Dr. McCracken can correct nearly any problem, often minimally invasively. For instance, a brow-lift can be performed endoscopically on an outpatient basis.
Although done in an operating room, upper and lower eyelid surgery can be done in less than one hour with local anesthesia and I.V. sedation. In both cases, normal activities generally can be resumed in a week.
Poor skin quality.
As we age, dwindling supplies of collagen and elastin result in thinner, less elastic skin, meaning more wrinkles and poorer tone and texture. Sun damage and smoking can accelerate this aging process.
The problems: Brow frown lines and wrinkles; "crow's feet" around the eyes; bands around the neck.
The solution: BOTOX® (or a similar product called Dysport®). Pic caption: 28 year old female before and after Botox ® to the frown lines
The numbers: Last year, 5.7 million Americans received BOTOX®, up 5 percent from 2010. Approved in 2002, injections of the purified neurotoxin are the most common procedure performed by plastic surgeons today.
The process: A procedure lasts about 10 minutes, involves minimal discomfort, and requires no downtime, says Dr. McCracken, who was chosen as a member of the BOTOX® and Juvéderm® National Education Faculty. The injected BOTOX® temporarily weakens the muscles responsible for the wrinkles, erasing lines. Results generally last about four months.
The problems: Finer, etched-in lines or a crepe-paper-like appearance; age spots or discoloration.
The solution: Laser resurfacing.
The numbers: More than 466,000 Americans had laser resurfacing in 2011, which includes a non-ablative form for minimal fine lines and an ablative procedure that offers more profound effects.
The process: Recent technological advances have heightened the procedure's safety and effectiveness. Newer, more precise (fractional) lasers allow Dr. McCracken to treat select small areas of the skin while leaving adjacent skin untreated, which improves collagen-production and tightens skin while speeding healing and reducing risks. Laser resurfacing removes the top layer of skin, resulting in a regenerated, younger-looking layer. The process and recovery time varies, but patients generally recover within a week.
Volume loss.
As we age, facial bones and fat stores shrink, increasing the appearance of deep pockets and facial folds: "Envision a plump grape as it loses volume and shrinks into a wrinkled raisin," Dr. McCracken says.
The problems: Pronounced bags under the eyes and increased folds around the nose, eyes and mouth.
The solution: Dermal fillers, such as Restylane®, Juvéderm® and Perlane®. "These products plump up the appearance of patients' faces for a more youthful look and are derived from hyaluronic acid, which is naturally found in the skin," Dr. McCracken says. Hyaluronic acid, which decreases with age, provides hydration and elasticity.
The numbers: In 2011, 1.9 million Americans received dermal fillers, up 7 percent from 2010.
The process: In-office injections are given, with little pain and no downtime. Dr. McCracken uses a cannula rather than a needle for injections, which appears to significantly reduce swelling and bruising. Results last six months and up to a year in some cases.
Call the McCracken Eye & Face Institute to schedule a consultation: 720-851-6600
Tags: blepharoplasty, botox, brow lift, Centennial, Cosmetic Surgery, Denver, Dr. Michael McCracken, eyelid surgery, healthy, laser resufacing, McCracken Eye and Face Institute, Ophthalmic Plastic, Perlane, Poor skin quality, Reconstructive Surgery, sagging tissue, volume loss, volume replacement
Leave a Comment
Please be respectful while leaving comments. All comments are subject to removal by the moderator.