Courtney Dauwalter | Mental Fortitude Goes Far |
by
Ultrarunner Courtney Dauwalter sets course records at the world's most competitive races. Beyond physical fitness, a positive mindset fuels her in the long run.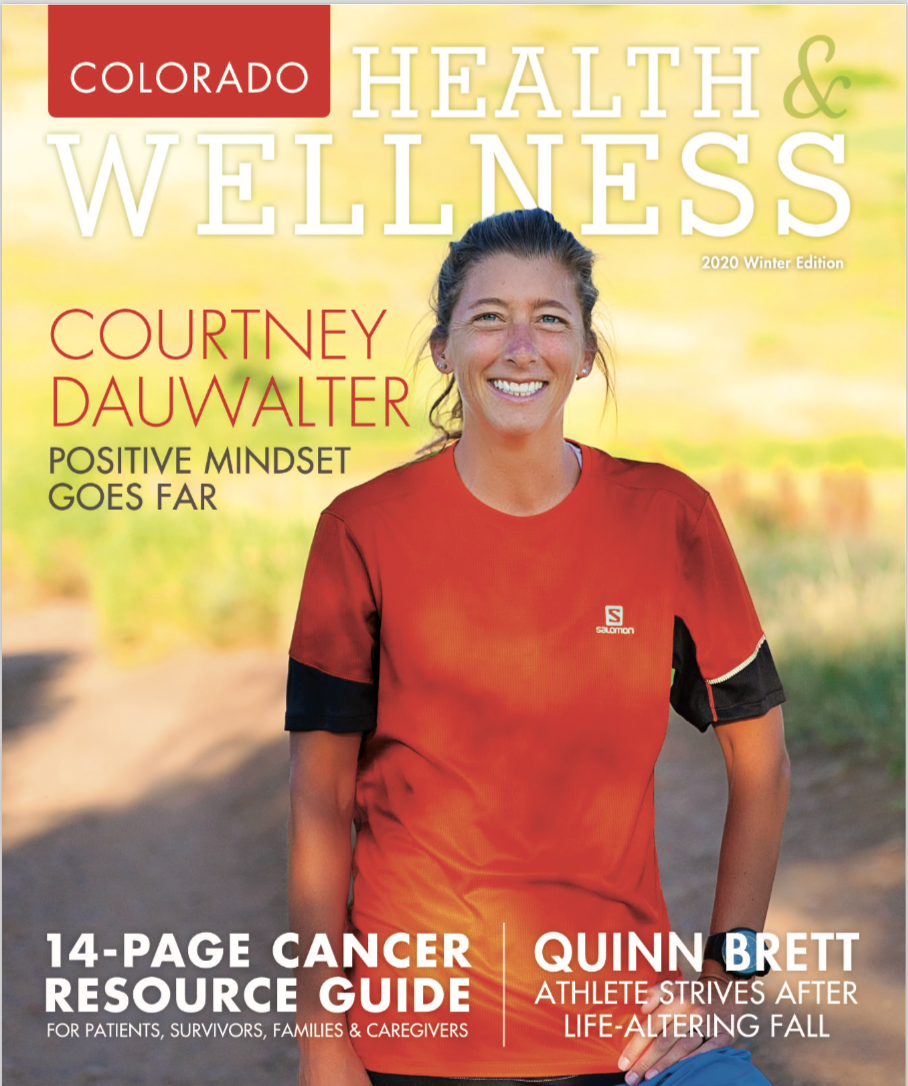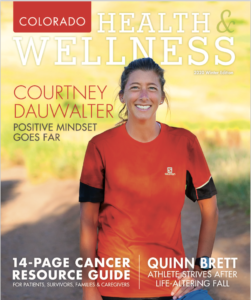 Courtney Dauwalter, a local of Golden, Colorado, is one of the world's greatest endurance athletes, specializing in foot races of extraordinary distances. A few of her spotlight moments include second overall finishes at the 2018 Tahoe 200, a 205-mile ultramarathon circumnavigating Lake Tahoe; Big Backyard Ultra, a last-person-standing, 4.16-mile looped course; and an overall win at the 2017 Moab 240. She moved for 2 days, 9 hours and 59 minutes—and finished 10 hours before the second-place finisher. 
Dauwalter kicked-off this race season in February with a win of the Tarawera Ultra Marathon, a 102-kilometer race in New Zealand. She followed this victory with an overall win at Moab's Behind the Rocks Ultra 50-mile in March and another first-place finish at the Madeira Island Ultra Trail: a 115-kilometer distance with 23,000 feet of ascent. 
But it's important to remember, "Life is not a musical," Dauwalter says.
Her Western States Endurance Run (known as 'Western States') didn't go as planned. The iconic race, created in 1974, is the oldest 100-mile trail race in the world. Entry is highly competitive; the lottery received 5,862 entries—a 19% increase in applicants over last year—and 369 runners toed the start line. The route meanders southwest, from the high country to the canyons, between Squaw Valley and Auburn, California, with 18,000 feet of elevation gain and 23,000 feet of loss. 
At sunrise, on June 29, Dauwalter started the race on a high note and ascended the snowy escarpment alongside Clare Gallagher, the race's 2019 champion. Dauwalter's brain, body and stomach felt smooth and synchronized. Out of the blue, her hip failed at mile 66, causing her leg to buckle. Thirteen miles later, it was clear the pain didn't stem from fatigue. Dauwalter dropped-out at mile 79. 
This is the first injury she's faced in her running career. "I've spent many years racing, I race often, plus the training miles—I ask a lot of my body," says Dauwalter.
Dauwalter first launched into ultrarunning races in 2011 and completes eight to 12 ultras a year from January to November, including three 'goal races' that are 100 to 200 miles each. "The check engine light was going to come on at some point—it just happened during a race," she says. Dauwalter stays stoked by accepting what she can't control. 
"Realizing that you can't force anything is a big weight off your shoulders. It's important to keep everything in perspective: It's just running. My family and friends love me no matter what. I need to enjoy this time, give it my very best, and see what happens," Dauwalter says. 
"I absolutely have conversations with myself on runs—self-talk helps! Part of getting through tough spots is tricking ourselves and brains to believe we can do it. During tough race moments, I repeat, 'You're fine. This is fine,' to remind myself that everything I'm feeling and experiencing is okay,"
Dauwalter's enthusiasm is contagious, says friend and training partner John Stanley. Stanley is a pacer and crew member for Dauwalter. (A pacer runs with a racer for a duration of the ultrarace to motivate and monitor pace, nutrition and safety. A crew meets their runner at aid stations to administer gear, fuel and support.) 
Six years ago, Dauwalter and Stanley met at the Girls Athletic Leadership School in Denver where they taught and coached cross-country before Dauwalter retired to focus full-time on her athletic career. "Physically, Courtney is very gifted, she works super hard, and she's 100% in—whether it's work, competing or playing cornhole. But I think her mental toughness—more than the physical—is what really helps her achievements," says Stanley. "Any athlete can learn from Courtney's mental strength: Know that things won't go perfect, don't dwell, figure out how to fix the situation and move past it."
The duo logs long training runs on the weekends. Dauwalter gradually inspired Stanley to dive into ultras too. This year, he'll run his first-ever century distance: the Ute 100 Mile Trail Race in Utah's La Sal Mountains. Dauwalter, her husband Kevin Schmidt and Mike Wilkinson, another friend of theirs, will be among Stanley's crew.
Schmidt, a software engineer and ultrarunner, likewise notes Dauwalter's solution-based lens. "I think Courtney has a different pain threshold versus most people but she also goes into a problem-solving mode with obstacles," he says. 
During the 2017 Run Rabbit Run 100 Mile, Dauwalter suddenly went legally blind, 12 miles from the finish but continued the race and won. (The undiagnosed issue was attributed to dust and sleep deprivation, which Dauwalter treats with rewetting drops.) "Most people would stop running if they lost their eyesight…Courtney thought, 'How can I feel out the trail or use blurred vision to keep moving forward?'" says Schmidt, who paced her to the finish using vocal commands. 
Schmidt attributes Dauwalter's mental stamina to her family's principals. "Courtney and her brothers had to see through commitments and goals to the end. Those core values drive Courtney to do everything that's required to compete at the level she does," says Schmidt, who will race the Bear 100 Mile in September. Dauwalter and Schmidt each started trail racing together nine years ago, after their first date. They support each other's progress.
"Kevin and I are a team. He helps me figure out the course and nutrition before the race. During the race, he's the ultimate crew chief at the aid stations. Afterwards, no matter the results, he's the first one ready to celebrate or problem-solve for next time," says Dauwalter.
For Schmidt, Dauwalter has been a role model for consistency, a technique he's adopted in his training. "Between races, Courtney takes enough time to rest and recover, but she never stops. She gets out every day, very consistently, whether it's running four or 20 miles or walking," he explains. Dauwalter also takes off December and sets aside a couple of weeks each year to visit family in Minnesota, where she grew up. 
Beyond her positive outlook, Dauwalter prepares for her A-races by weaving 50K, 50-mile and 100K events into her routine. Those efforts are fun and feed her knowledge about how to race and train well.
"I do races that require me to stay mentally tough. It's valuable to experience low points and to accumulate a file cabinet of challenges that become evidence. In following races, I can remember my ability to work through tough situations," says Dauwalter, who's also innately driven by curiosity. "Physically and mentally, we're capable of more than we think. I love chasing down what that is: when it feels like we can't go another step, and our brains help power us down the trail."
Dauwalter is also a huge proponent of self-talk. "I absolutely have conversations with myself on runs—self-talk helps! Part of getting through tough spots is tricking ourselves and brains to believe we can do it. During tough race moments, I repeat, 'You're fine. This is fine,' to remind myself that everything I'm feeling and experiencing is okay," says Dauwalter. If her brain and body continually return to a negative space, she consumes extra calories, tells herself jokes, enjoys the beautiful surroundings and reminds herself that it's a privilege to opt into this unique experience.  
Every day, Dauwalter refuels with food she enjoys, sans tracking calories or nutrition. She holds herself accountable to get outside but listens to her body's signals of fatigue—like sleeping late or delayed thought-processing—and guiltlessly runs fewer miles or not at all. After setbacks, she lets herself be bummed but mostly considers what she can learn, how she can become stronger and preventative measures. 
No matter what, Dauwalter strolls. "The one thing I love to do consistently is walk—to soak up sunshine and fresh air with no agenda. I aimlessly wander in my neighborhood. No music. No phone. Many times, my husband and I share that time," she says. After a 100-mile race, Dauwalter might walk for five days before reintegrating short jogs.  
Dauwalter maintains life balance by prioritizing her goals. "I expect a lot from myself in all life avenues, as a wife, friend, citizen and runner. When I tried to juggle running and teaching, I fell short of my expectations. Temporarily giving up one of those things was important. It's essential to evaluate our lives, make choices based on self-reflection, and trend our life toward happiness," she says. 
More than a month after Western States, the root of Dauwalter's hip injury remained unknown. She replaced running with foam rolling, hip exercises (per a physical therapist), and cycling. She also stayed mentally positive and focused on her joy of running.
"I love racing. We're all enjoying the day and pushing each other. For me, racing is an internal effort: I want to see how far and fast I can go. I use running as a way to explore the world, meet people, and becoming a better person," she says. 
Her approach worked. On August 30, Dauwalter's knee was strong enough for her to toe the line of her next race: UTMB (Ultra-Trail du Mont-Blanc), a 106-mile route with 33,000 feet of ascent that circumnavigates Mont Blanc through France, Switzerland, and Italy. And she won. 
Dauwalter's remaining 2019 race schedule includes representing Team USA at the IAU (International Association of Ultrarunners) 24 Hour World Championship, in October. 
No matter what happens on or off course, Dauwalter will continue to smile, inspire onlookers, and enjoy life to the fullest.
In other news: Colorado's finest runners share advice on keeping fit and pain free!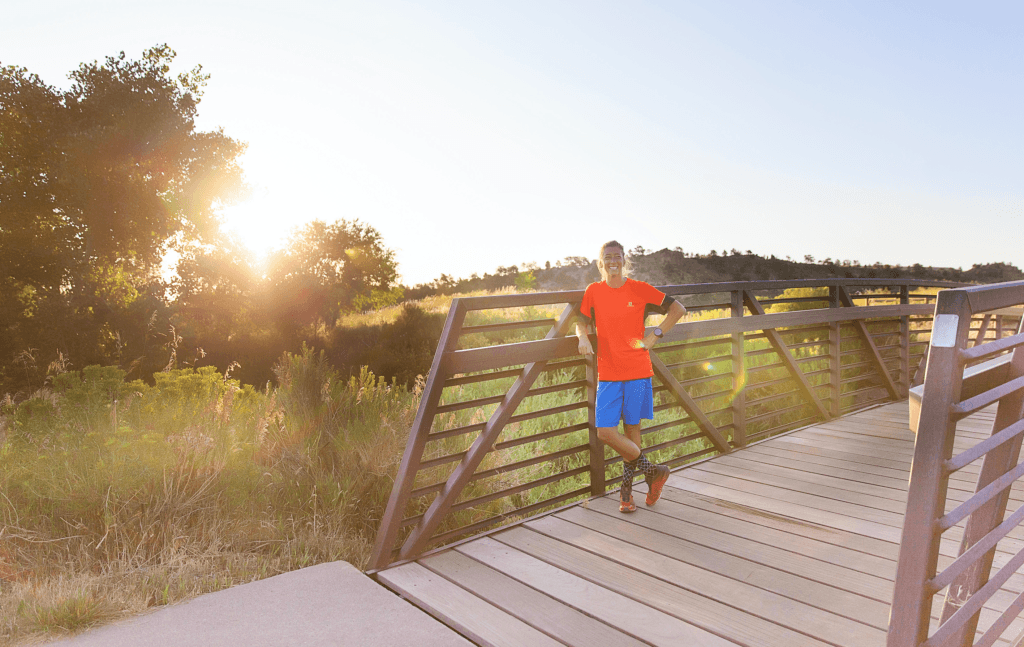 Tags: mental health, running
Comments
Leave a Comment
Please be respectful while leaving comments. All comments are subject to removal by the moderator.